Laminam I Naturali Collection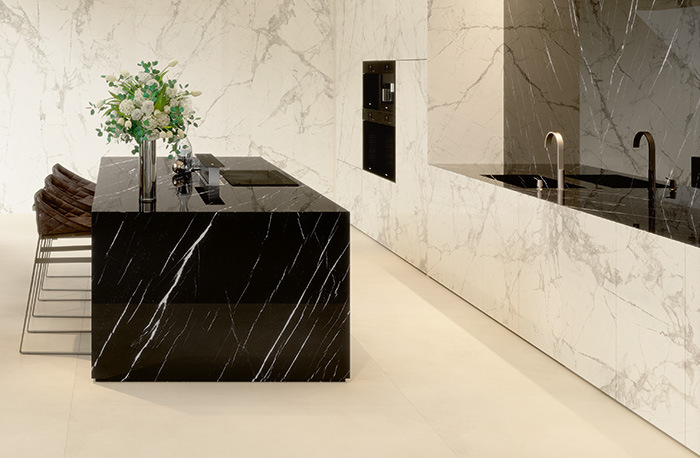 November 17, 2023
This article was originally published on November 17, 2023; it was updated on December 3, 2023.
Laminam has introduced four new colors to its I Naturali Collection in the North American market. The colors are inspired by highly sought-after natural marble stones found in Italy, Spain and Brazil.
I Naturali's new color edition Nero Marquina Extra (pictured) is a luxurious surface that draws inspiration from highly coveted natural marble extracted from the quarries located in northern Spain in the town of Marquina for which it is named. This dramatic color features a deep black texture crossed by ultra-fine white veining. The brilliance and structural depth of the black color contrasts perfectly with the white.
The collection introductions also include Calacatta Mediceo, featuring rich, wide gray veining enhanced by deep orange-brown oxidations on a classic crisp-white background. Inspired by the classic Calacatta Macchia Vecchia from the Carrara region in Italy, its unique color variation makes it a statement piece.
I Naturali's new Arabescato Gold replicates the elegance of a highly prized variety of Carrara marble. Its prominent dark gray veining stands out on a distinctive crystalline white background, forming a multitude of circular patterns. The result is a new standard of beauty and distinction that offers a modern twist to a classic color. Its versatility makes it the ideal solution for cladding, flooring and kitchen countertops.
Patagonian marble, natively mined in Brazil, is one of the most picturesque materials found in nature thanks to its particular graphic pattern. Laminam's new I Naturali Fusion White is a reinterpretation of this natural stone favoring warmer shades, in line with current trends in architecture and interior design. Set on a beige background crossed by veins ranging from gray to brown, the pattern of Fusion White is evenly distributed on a bespoke surface, giving it a consistent and strong visual impact.
Photo credit: Laminam