LX Hausys America Monte Collection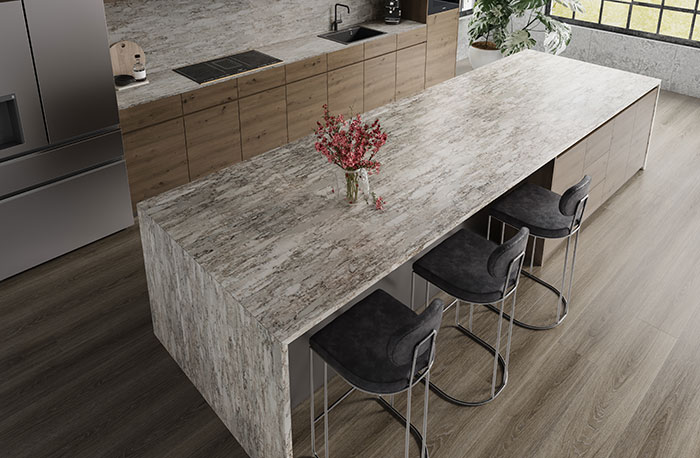 November 15, 2023
This article was originally published on November 15, 2023; it was updated on December 3, 2023.
LX Hausys America Inc. has introduced the Monte Collection from its Viatera brand, a testament to the majestic allure and raw splendor of mountainous landscapes. Crafted with an artful blend of design and innovation, this collection captures the essence of various mountain ranges across the globe, offering a diverse array of surfaces that epitomize nature's grandeur.
From the towering peaks to the serene valleys, each color in the Monte Collection is meticulously designed to reflect the character and visual splendor of specific mountain ranges. These surfaces are a testament to LX Hausys's commitment to precision and artistry, replicating the natural elements and geological formations with accuracy.
The collection will infuse any space with a sense of wanderlust and natural grandeur. It brings forth a harmonious blend of beauty and functionality, offering both an aesthetic appeal and the resilience of high-quality surfaces. Dolomites and Apennines – the first two colors in the Monte Collection – are each meticulously crafted to echo the distinct characteristics of these mountain ranges.
Natural elegance and majestic charm collide in the breathtaking design of Dolomites. Gold and gray veins naturally flow between the tone-on-tone white base, which gives a subtle sense of depth as if viewing Breccia marble. Expressing coolness and warmth at the same time, this inviting color creates an aesthetic resembling the natural look of marble.
Inspired by the scenic and diverse landscapes of the Italian mountain range bearing the same name, Apennines (pictured) emanates rugged charm and organic elegance. The rough visual texture and intense color contrast give a profound sense of luxury, while the harmony of golden brown and dark gray creates a vigorous pattern set upon a dynamic background.
Photo credit: Courtesy of LX Hausys America