Materials Marketing Denise McGaha Collection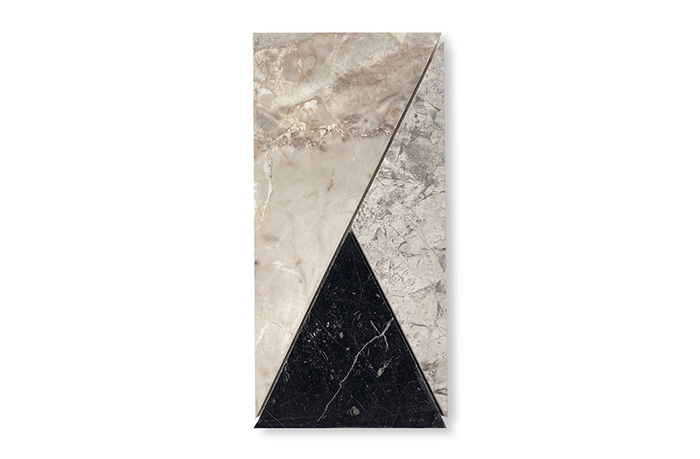 October 7, 2021
Materials Marketing Architectural Stone and Tile is proud to announce the launch of an expanded collection in partnership with celebrated designer, Denise McGaha. The new Denise McGaha Collection adds two new fireplace designs to the five available models, and introduces two entirely new lines: an exclusive group of five new mosaic patterns perfect for flooring or vertical applications, and three beautiful, hand carved natural stone sinks available as a wall or deck mount. 
"I am incredibly excited to add to our collection with Materials Marketing. I design custom products that I can't find on the market and these hand carved sinks and mosaic tiles are based upon the items I need most for our design projects. I was inspired to create these designs after spending so much time at home last year and reimagining our family spaces for enhanced living. I am most excited about the options for chiseled or smooth faces on our sinks and the customization that Materials Marketing offers in our collection." 
This collection brings together Denise McGaha's unique, multifaceted approach to interior design with Materials Marketing's meticulous craftsmanship to create stunning, natural stone pieces with a timeless aesthetic. The three lines—fireplaces, mosaics, and sinks—compliment each other to work seamlessly together in one project, while still able to act as standalone focal points for any space. 
The new lines expand upon an already noteworthy collection of elegant fireplace designs. Pieces from the Denise McGaha for Materials Marketing Collection have been featured in Traditional Home Magazine, Luxe, Dallas Design Guide, and Atlanta Home among other outlets, and selected by decorators and homeowners nationwide. 
"Denise has long proven hers is an important voice in contemporary design, creating spaces that are very much on trend but retain a sense of timelessness, and we are honored to give that voice form with the launch of this collection," says Timothy Roberts, Materials Marketing Holdings CEO. "Given the success of our previous partnership, and the excitement already building around the new collection, we have no doubt the new Denise McGaha Collection will soon be on every designers' mind!" 
More information about all three lines from the Denise McGaha for Materials Marketing Collection, including photographs and specifications for each piece, is available at Materials-Marketing.com.