Momentum Textiles & Wallcovering Digital Creations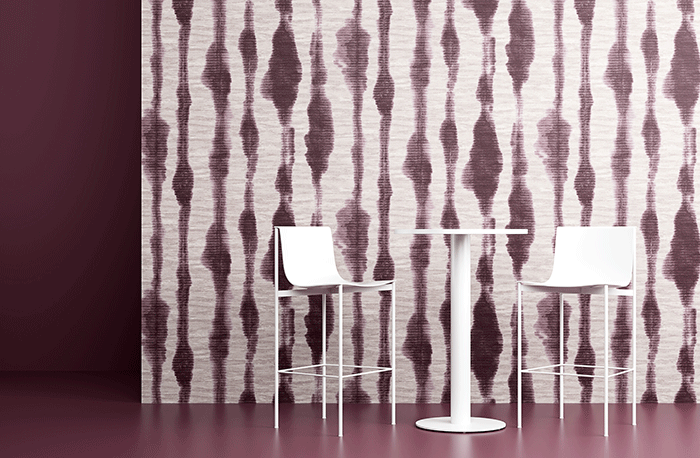 October 25, 2023
Momentum Textiles & Wallcovering has introduced Digital Creations — an exciting offering allowing specifiers to create a one-of-a-kind wallcovering experience. Choose artwork from a stunning array of pieces by world-renowned artists, a collection curated by Momentum or even specifiers' own personal designs.
Digital Creations combine the timeless allure of art with the limitless potential of technology, enabling designers to turn spaces into experiences with unparalleled ease and creativity. The offering features three exciting, elegant options — Artist Designs, which includes the work of renowned faces like Sina Pearson and Shantell Martin; Studio Designs, created by Momentum's talented in-house team; and Your Designs, which puts the specifier in the creative driver's seat.
The Artist Designs celebrate craftsmanship and technique that are as remarkable as the final product. Intended to make a statement, both Artist Design wallcoverings are meticulously crafted to leave a lasting impression. With Artist Proof, visionary textile designer Pearson presents a modernist motif that balances abstraction with organization to infuse an artist's touch into interiors. Meanwhile, British visual artist Martin's world of meditative lines and characters blur the boundaries between fine art and commercial design. In a thrilling collaboration with Momentum, her musings have been transformed into three dynamic wallcoverings — Well Well Well, Places Spaces Faces and Today Here Now.
Momentum's Studio Designs dive into the brand's expertly curated internal selection, spanning from murals to repeating patterns. This Digital option offers trend-forward contemporary art created by Momentum's in-house team, available in unexpected colorways that range from subtle palettes to bold statements, allowing customers to choose artwork that complements their interiors. These designs harness innovative printing processes to blend fine art with modern techniques and can also be combined with iconic Momentum textile lines for an even more curated space.
Finally, Your Designs allows specifiers to turn their own artwork into a one-of-a-kind wallcovering. Whether a napkin doodle, a distant memory, a work-in-progress painting or a fully developed file, the brand's skilled designers help to elevate each idea into a luxurious experience. Specifiers can explore Momentum's extensive library of substrates to choose the perfect material that not only showcases the art but provides a tactile experience that delights while also reinforcing brand messaging. 
Momentum's world-class equipment and printing technology guarantees that the final work, whether a custom design or one of the brand's artfully curated prints, is beautiful, durable and crystal clear. From concept to print-ready designs, the process is as seamless as the product.