New Ravenna Ville Lumière Collection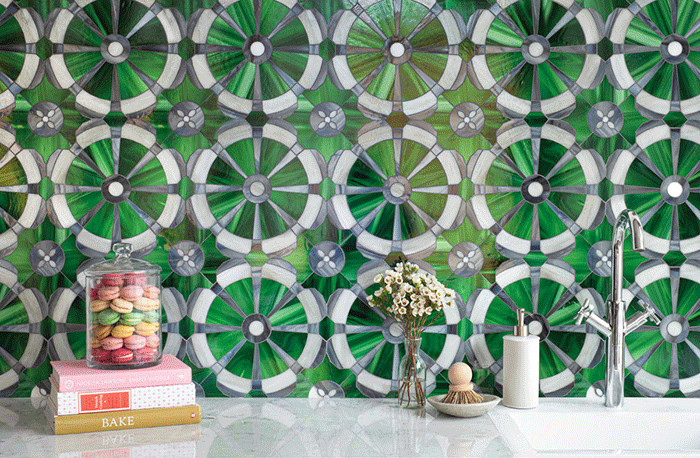 November 6, 2023
New Ravenna has introduced the Ville Lumière Collection designed by Caroline Beaupère. The nine designs in natural stone and jewel glass with 24k gold accents are inspired by the iconic architectural elements of Paris, where Beaupère was born. 
Ville Lumière captures the light of Paris with the South gothic rose window of Notre Dame de Paris Cathedral and the Art Nouveau stained glass cupola of the Printemps department store.
Tour Eiffel is interpreted in mosaic with the wrought-iron lattice structure viewed from below. Heraldic fleurs-de-lys grace the Ile Saint-Louis pattern, accented in 24k gold. Beaupère designed Sacré Coeur as a stylized heart motif to reflect the neo-Byzantine ethos of the Basilica of the Sacred Heart in Montmartre. Place des Vosges interprets the vaulted arcades that frame the square in the Marais. Place Vendôme was inspired by the faceted jewels found in the luxury stores surrounding the obelisk. Beaupère chose stones in varying shades of gray to depict in the color palette reminiscent of the metal, stone and pavement found in Parisian streets and buildings.
When beginning the design process for Ville Lumière, Beaupère sought to establish continuity from her first collections, Jardins Français and Liliane, by exploring Paris as Ville Lumière — the City of Light. The collection represents a promenade through the most enchanting neighborhoods of Paris, representing the places most enjoyed by Beaupère throughout her life.
The mosaics in the collection are handcrafted by the artisans at New Ravenna. The stone mosaics can be installed on walls and floors, indoors and outside. The glass mosaics are suitable for vertical interior installations.