Nobilia Niche Designs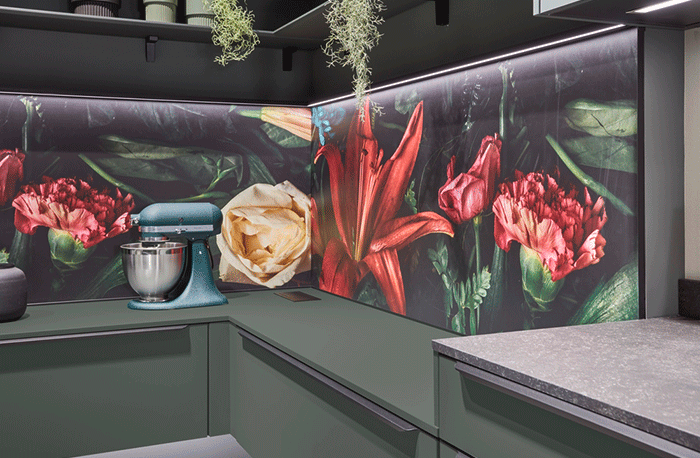 November 12, 2023
Nobilia's newest niche designs and backsplashes bring forth the latest trends for 2024 that are set to redefine kitchen aesthetics. The brand's range showcases three captivating styles — Scandi-style oak décors, lively flower motifs and detailed Boho décors — allowing homeowners to effortlessly create eye-catching spaces that resonate with their personal design preferences.
Scandi-style interiors have gained immense popularity in recent years for their timeless appeal and minimalistic charm. Nobilia's Scandi-style oak décors encapsulate the essence of this design trend, featuring natural hues and clean lines that exude a sense of tranquility and sophistication. The incorporation of oak accents within the niche design offers a perfect balance of warmth and modernity, making it an ideal choice for contemporary kitchens seeking a touch of Nordic elegance.
Incorporating vibrant flower motifs (pictured) into the kitchen niche brings a burst of color and cheer to the heart of the home. Nobilia's niche designs adorned with colorful flower motifs are set to captivate homeowners seeking to infuse their space with liveliness and personality. These designs allow for a playful and artistic expression, transforming kitchens into delightful spaces that evoke the joy of blossoming gardens and the beauty of nature.
For those seeking a blend of eclecticism and individuality, nobilia's detailed Boho décors are the perfect choice. Drawing inspiration from the Bohemian lifestyle, these intricate designs reflect a free-spirited and unconventional approach to design. With a variety of patterns, textures and vibrant colors, nobilia's Boho décors enable homeowners to create a personalized kitchen ambiance that mirrors their bohemian soul.
The nobilia niche offers a plethora of design options, empowering designers to effortlessly create eye-catching spaces while aligning with the overall design concept. Their range of materials and designs complements various décors, including carcases and worktops, enabling the creation of the perfect tone-in-tone look.
Photo credit: nobilia