Nobilia Xtra Ceramic Worktop 783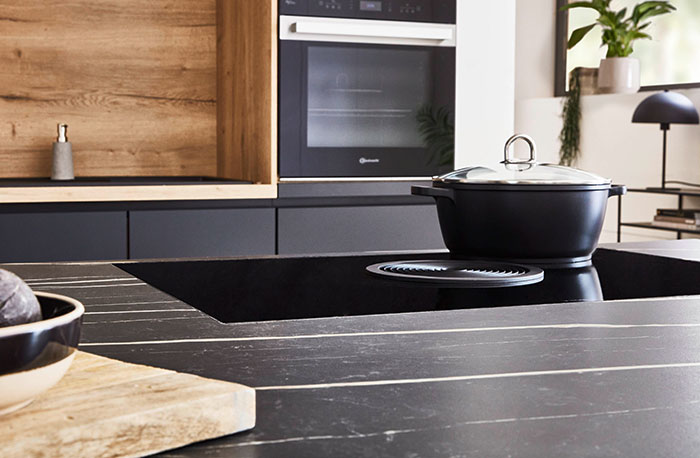 August 15, 2023
Nobilia has introduced the Xtra Ceramic Worktop 783 in Venato Nero reproduction. The new worktop not only promises exceptional performance in the kitchen but also adds a touch of timeless elegance to any living space.
Combining Form and Function
Kitchen worktops play a vital role in the heart of every home, and nobilia North America understands the need for a perfect balance between durability, hygiene and aesthetic appeal. With this in mind, nobilia has expanded its line of worktops to include three new décors for 2023, each designed to harmoniously complement existing designs.
Among the brand's new décors, the Xtra Ceramic Worktop 783 in Venato Nero reproduction stands out as a true gem. Inspired by dark marble, this worktop can be beautifully integrated as a contrasting element or elegantly tone-in-tone with black surfaces. The dark marble look is adorned with golden accents, creating captivating contrasts when paired with high-gloss magnolia fronts.
Innovative Technology for Unmatched Performance
Nobilia takes innovation seriously, and the Xtra Ceramic Worktop 783 is a testament to that commitment. This patented worktop is manufactured using an ingenious composite construction method. Its 16 mm thickness consists of 6 mm solid ceramic atop a 10 mm lightweight backing layer made from recycled glass.
The fusion of these materials results in an impact-resistant design edge, making the worktop ideal for the demanding nature of everyday kitchen life. Its surface is scratch-resistant, ensuring its stunning appearance remains intact even with frequent use. Moreover, the water-resistant features of the worktop make it suitable for bathrooms, adding a touch of natural beauty to any living space.
Versatility at Its Best
Nobilia's Xtra Ceramic Worktop 783 offers versatility like no other. Besides enhancing your kitchen, it effortlessly accommodates technically approved hot plates and sinks in a flush-mounted installation.