Silestone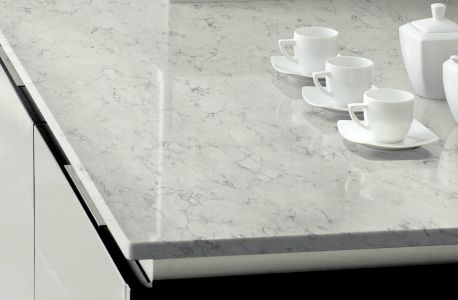 August 3, 2015
Silestone quartz surfacing brand has expanded its most popular color series with the introduction of Nebula Alpha, a stunning collection of four colors inspired by the sleek sophistication of marble. Illustrating the unexpected beauty of nature with soft, deep and balanced tones, Nebula Alpha is an evolution of Nebula and Nebula Code, two color series that have proven popular worldwide. 
The aesthetic of the Nebula Alpha utilizes groundbreaking color technology to create four complex colors: Ariel, Orion White, Calypso and Phoenix. These natural hues feature an original pattern of colored veining throughout the surface that never repeats. Ariel offers a combination of creamy white with light gray veining conveying a soft, sophisticated aesthetic; Orion White's stark white base combines with a rich palette of subtle grays, offering vibrant movement; Calypso utilizes warm chocolate hues punctuated by subtle creamy veining and Phoenix presents a buttery, neutral background lightly sprinkled with rich coffee-colored veining. 
As with all Silestone natural quartz products, the Nebula Alpha series is naturally non-porous and never needs to be sealed. It is easy to clean and has high scratch, stain, and heat resistance. Silestone also offers the assurance of GREENGUARD certification for clean air quality, and the National Sanitation Foundation certification (NSF 51) for safe food preparation.