Vetrazzo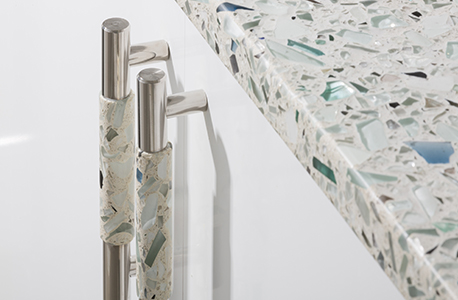 April 25, 2016
Vetrazzo has introduced the Sea Pearl finish to its collection of glass surfaces. The finish is similar in feel to wave-worn pieces of sea glass. The softly raised, pearl-like beads highlight the individual shapes of the shards of glass contained within the slab and on the surface.
Vetrazzo transforms recycled glass into surfaces that showcase unique design and appreciation of the earth and its limited resources. Composed of 85 percent post-consumer recycled materials in a cement-based matrix, the finished slabs contain no petroleum-based resins or fossil fuels like other engineered surfacing materials, thereby eliminating harmful VOCs and minimizing the product's carbon footprint, contributing to a greener, more sustainable planet. Vetrazzo surfaces are LEED and Cradle to Cradle Silver certified and are manufactured in the U.S.
With a large palette of 26 colors, there is a diverse range of design options available, made from innovative blends of a variety of glass, creating a special story in every surface. Sea Pearl finish slabs are 1 1/4-in. thickness. Vetrazzo has also recently introduced their new Mosaic Tile line, further eliminating tons of materials from overcrowding landfills and taking a million years to break down. The new glass Mosaic Tiles are available in several stylish sizes and patterns to enhance your project, like 2×3 and 2×4 brick or 2×2 and 4×4 grids, and are mesh backed on 12×12 sheets for easier installation.