Bosch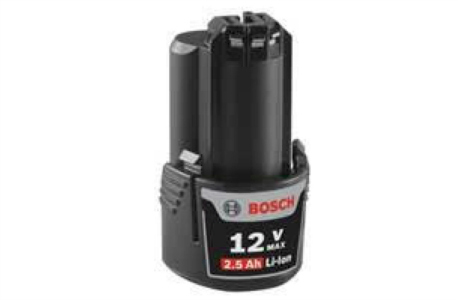 October 8, 2015
Maximum runtime is what trade professionals want from their power tool batteries – for every job. And when greater runtime comes in the same size package as batteries with less long-lasting power, it's a win for everyone.  That's the story of the Bosch BAT415 12V Li-on 2.5 Ah Battery Pack – more power means 25 percent greater runtime, no increased weight and a cylinder shape that makes the battery easy to use anywhere.
"Our objective was to build a 12V lithium-ion battery pack that would address our customers' request for more power in the same-size package," said Tim Truesdale, product manager, cordless, Robert Bosch Tool Corporation.  "We delivered on increased runtime at the same weight, which is an achievement. The fact that it fits into our easy-to-use 12V cylinder battery design is added value to the customer. It's easier to use."
The BAT415 battery offers single cell monitoring, which maximizes the performance of each individual cell for longer runtime. Low-resistance cells deliver the performance increase versus standard 12V 2.0 Ah lithium-ion pack batteries. The technology allows Bosch to deliver more energy per cell without increasing overall battery size; weight is .40 lbs. 
Target applications for 12V tools using the Bosch BAT415 battery pack include sawing, cutting, sanding, drilling and screw driving. Like all Bosch 12V lithium-ion batteries, the BAT415 is compatible with the complete Bosch 12V tool system.