CertainTeed Gypsum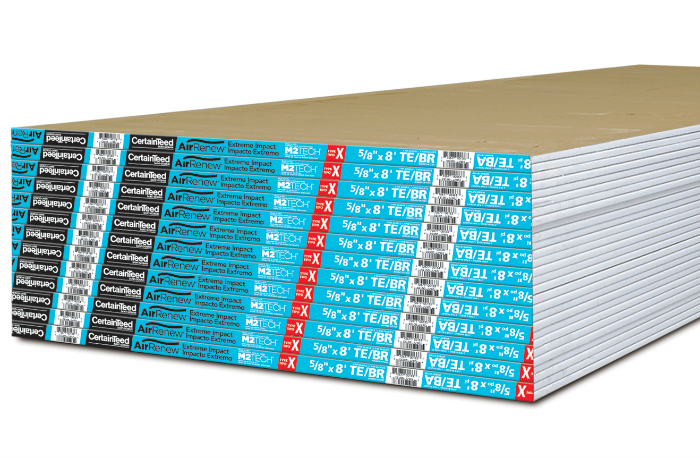 August 25, 2016
CertainTeed Gypsum is broadening its AirRenew indoor air quality (IAQ) gypsum board product line with the addition of AirRenew Extreme Impact and AirRenew Extreme Abuse. The expansion rounds out the AirRenew product family with solutions that boast high-performance attributes, such as fire, abuse and impact resistance as well as moisture and mold protection. AirRenew contributes to the overall health of interior environments by proactively scavenging volatile organic compounds (VOCs), particularly formaldehyde, in a built environment.
AirRenew Extreme impact and AirRenew Extreme Abuse are the first abuse-resistant gypsum boards that actively improve indoor air quality. They handle the same as regular gypsum boards and do not require special tools to install or finish. Additionally, abuse-resistant gypsum boards are cost-effective alternatives to concrete masonry units, often specified for high-traffic applications. AirRenew Extreme Impact contains a specially designed fiberglass reinforcement that provides superior resistance to hard impacts and penetrations. AirRenew Extreme Abuse is designed for areas prone to surface abrasion and indentation. Both products feature M2Tech technology, which consists of 100-percent recycled paper that is treated to protect against mold growth.
The AirRenew product family can contribute to indoor environmental quality, recycled materials and innovation in design credits for green projects. AirRenew contains up to 99 percent total recycled content and may provide regional materials depending on project location. In addition, the use of abuse- and impact-resistant gypsum boards contributes to the overall durability and longevity of interior spaces in homes and buildings. AirRenew products achieve GREENGUARD Children & Schools(SM) certification while AirRenew Extreme Abuse and AirRenew Extreme Impact also meet the abuse resistant requirements of ASTM C 1629. They are available in 5/8-in. (15.9-mm.) thick boards in standard lengths.