Kesseböhmer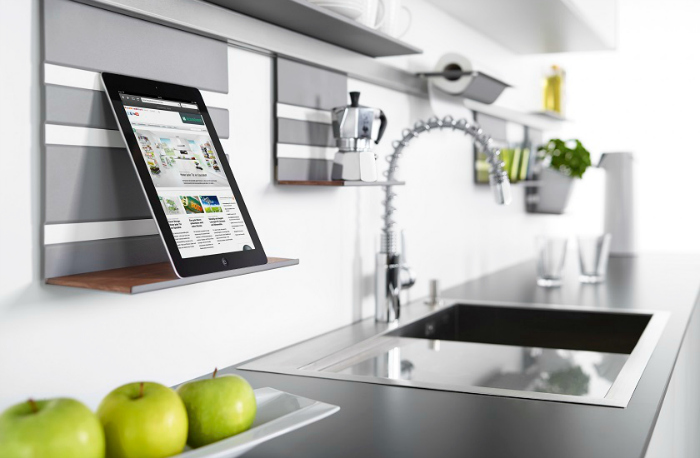 March 8, 2017
Kesseböhmer USA will debut its LINERO MosaiQ to the North American market this year, providing a creative and versatile storage solution for backsplash areas. Already available in Europe, LINERO MosaiQ is a multi-functional, anondized aluminum rail that helps homeowners utilize valuable space between the countertop and cabinets. The aluminum rail of the LINERO MosaiQ can be screwed or glued to the wall, making it a fit even for contemporary glass backsplashes. The system's shelves can be hung below the rail or clipped above it, offering versatility for different kitchen designs and sizes.
With varying heights and widths and a selection of finishes, the LINERO MosaiQ offers functional elements including various hooks, single and double roll holders and a power source called "eBoxx." The eBoxx power supply, switch and cable are integrated in the eBoxx and in the LINERO rail for a clean look. A specially designed shelf is sized to hold a smartphone or tablet safely above the worktop – perfect for viewing recipes while cooking. Other shelf options include a knife block, small pots with an angled base and customizable shelves. Echoing the characteristic LINERO MosaiQ design, the customizable shelves can be combined with a midway system or installed on their own as a practical and decorative element anywhere in the home. The shelves can be customized in décor or finish to coordinate to kitchen design. Shelf angles are available in graphite black and titanium gray.
Find more tech-savvy options for the kitchen here.