Napoleon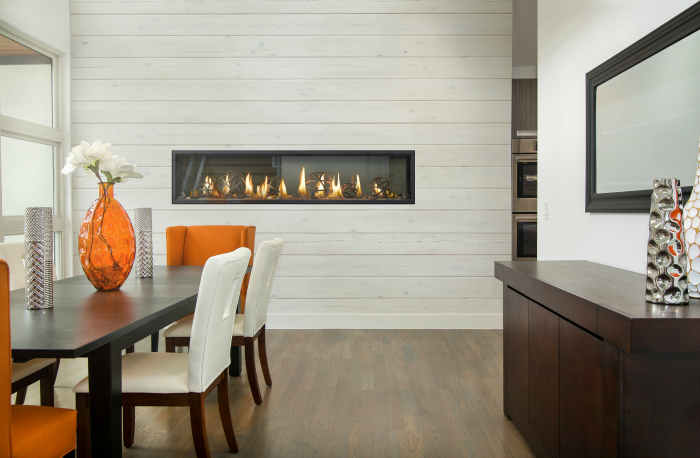 June 2, 2017
The new Napoleon Luxuria Linear Series features the Dynamic Heat Control and Glass Guard Systems, which eliminate the need for a safety screen. To put it another way, the only thing to stand between you and the flames of a six-foot-long fireplace is clear glass that's safe to touch.
The Dynamic Heat Control and Glass Guard Systems come standard on every Luxuria Linear Series fireplace and allow heat to be redirected from the fireplace opening, eliminating the need for a safety screen. What's more, the heat redirection still operates in a power outage and does not have the complexity of a noisy air circulation fan that can compromise the size or appearance of the flames. With the ability to redirect heat from the fireplace to other areas of the home, or even outside, homeowners can enjoy the ambiance of the fireplace year-round while maintaining a comfortable temperature. Without a safety screen, the beauty of the fireplace can be appreciated from a single clear pane of glass that remains safe to touch. 
The series offers four different sizes ranging from 38 to 74 inches long, as well as single-sided or See Thru configurations. Because the units redirect heat, any number of combustible framing finishes can be used. The heat redirection and cool touch glass features also expand the possibilities for positioning the fireplace. Challenges like heat sensitive electrical equipment, rooms like the kitchen that often overheat, and accessibility to pets and children have often dictated where fireplaces were located are no longer a concern with the Luxuria Linear Series.  
Available in natural gas, the unit can be converted to propane, and have up to 50,000 BTUs for optimum warmth and comfort when needed. Every Luxuria Linear Series has an integrated system that allows one person to quickly and safely access the glass for cleaning without any special tools.
The Napoleon Luxuria Linear Series was named Best in Show for the 2017 Vesta Awards at the HPBA Expo. It was also awarded First Place in The Hearth Products Category.
Find more exciting advances for the kitchen and other spaces here.