Samsung Electronics America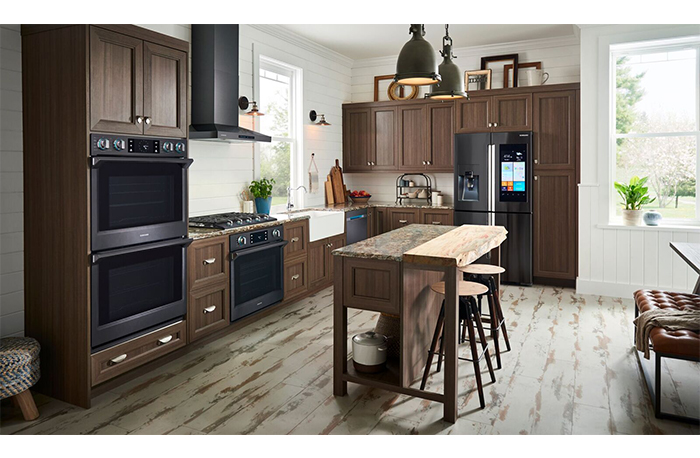 October 11, 2016
Samsung Electronics America's new line of built-in cooking products will be available beginning November 2016 in traditional stainless steel or the company's black stainless steel finish. All appliances are equipped with Wi-Fi connectivity so users can remotely start, control and turn off their ovens, as well as monitor their cooktop and range hood from a smartphone.
The Built-in Double and Single Wall Ovens feature Steam Cook technology to easily bake and roast with professional results. Samsung is also introducing the industry's first Triple Oven in a Double Oven cut-out with exclusive Flex Duo technology found in select built-in ovens, enabling the user to cook two different dishes at different temperatures simultaneously within the same oven compartment.
In addition to the interior halogen lighting, the wall ovens have signature LED lights in the door, which illuminate the oven's 5.1 cu. ft. capacity. Each oven is Wi-Fi enabled and includes a temperature probe allowing you to monitor, adjust time and temperature, preheat and turn off an oven from a smartphone. Samsung wall ovens will be available at retailers and online ranging from $2,199 to $3,999.
The Built-in Gas Cooktop features a professional-level 22K BTU dual-power burner for high performance, a first for a built-in gas cooktop in the U.S.; ergonomically designed, easy-to-grip knobs; and a removable cast-iron griddle and wok grate. Samsung gas cooktops will range from $1,199 to $1,699.
The Built-in Induction Cooktop includes a FlexZone feature that automatically adjusts heat to adapt to different pot shapes and sizes; digital touch controls with a new adjustable, magnetic knob; and Samsung's Virtual Flame technology that replicates the visual of a gas flame. Samsung induction cooktops will range from $2,099 to $2,499
The Built-in Electric Cooktop features a 3.3 kW Rapid Boil element that offers intense heat and precise control; the Sync Burner feature, which lets you control two burners simultaneously; and 15 different heat settings for various dual/triple/warming zone options. Samsung electric cooktops will range from $1,099 to $1,499.
Samsung's Built-in Range Hood features a new dishwasher-safe metal baffle filter that helps keep the air clean by drawing grease and odor through the hood for better ventilation. The wall-mount, chimney-style hood also offers 600 CFM, LED lighting and Bluetooth technology – allowing it to sync directly with select Samsung cooktops. Samsung range hoods will range from $1,099 to $1,299.