Móz Designs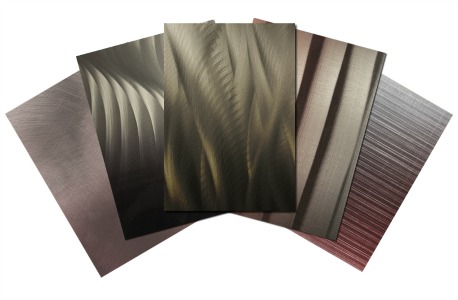 July 10, 2015
Móz Designs enhances its Gradients Collection of decorative metal surfacing with new ombré color tones and unique textural grains. The Collection now features nine ombré color spectrums that range from light to dark and a choice of nine textured grains that add dimension to the iridescent surfaces.  
Gradients is fabricated from recycled aluminum, contributing to LEED 2.0 MR Credit 4 – Recycled Content, and is recyclable when its product life is ended. The product is designed for use in interior and exterior applications, such as walls, columns, ceilings, canopies, room dividers, elevators and other architectural applications. 
The Gradients Collection is available in four-ft. by eight-ft. or four-ft. by 10-ft. aluminum or corrugated aluminum panels with thicknesses ranging from .040 in. to .125 in. The sheets can be installed vertically or horizontally, and custom colorways are also offered.