Tulikivi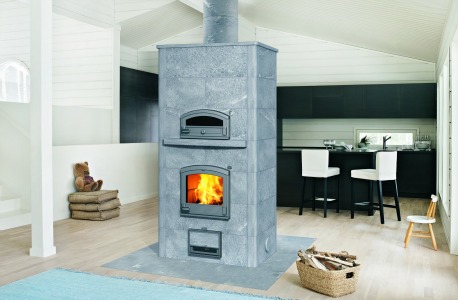 November 6, 2015
Tulikivi, manufacturer of heat-retaining fireplaces made of soapstone, continues to emphasize its use of natural resources through its uniquely designed fireplace bake ovens. One of Tulikivi's most popular fireplace bake oven models is the TTU 2700/5. This freestanding fireplace with a bake oven is an ideal room divider featuring see-through doors, allowing visual of the fire from both sides. Optional features include a mantel, an extra course and a wraparound bench.
Tulikivi's fireplace bake ovens are more than just an oven—every piece of soapstone used to construct a Tulikivi fireplace has an individual character and special beauty. The ovens provide extended baking time as well as excellent heat-retaining properties, ensuring well-cooked meals and tasty results. The natural antibacterial soapstone is resistant to chemicals and heat, eliminating stains and burns, and requires very minimal maintenance and upkeep.
The structure of a Tulikivi allows wood to burn separately within the fireplace firebox or bake oven. The whole stove warms evenly from top to bottom and the aroma produced by a wood-fired oven gives every meal a delicious finishing touch.