Aran Cucine Phantastic_The Laundry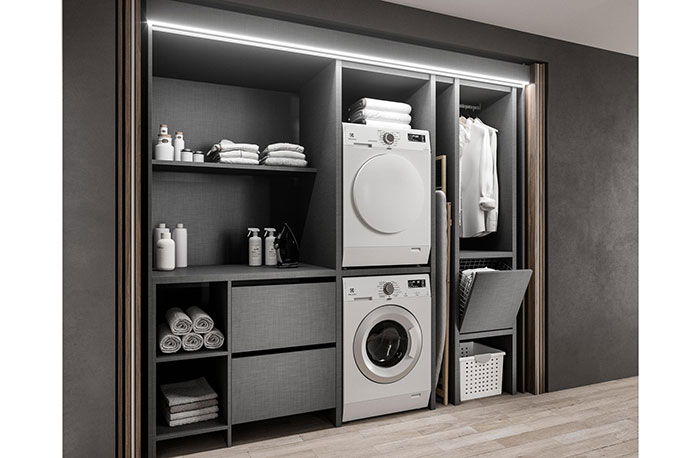 September 16, 2021
Aran Cucine presents a new project, Phantastic, which includes a laundry design. Phantastic_The Laundry features doors with tall units in Noce Caracalla finish to hide modules, shelves and units in Alcene Antracite. Customizable according to needs, Phantastic allows designers to create ad hoc solutions optimizing the available space. A further plus of this system is the possibility to choose its size — tall units can be single, with just one door, or double with three or four doors.
The Phantastic name, formed by combining the two terms 'phantom' and 'fantastic,' indicates something hidden and then surprisingly revealed. It is a system of tall cabinets that can hide a laundry corner or a kitchen, is totally customizable and fully embodies some of the company's goals, such as offering functional, versatile products able to meet any needs.
Tall units are equipped with retractable doors with bi-fold opening, a mechanism useful to reduce the amount of space; the opening is flush with the sides of the cabinet, in fact, it keeps the doors hidden, saving more space. The wide range of finishes offered by Aran Cucine allows designers to create original color combinations.