Beko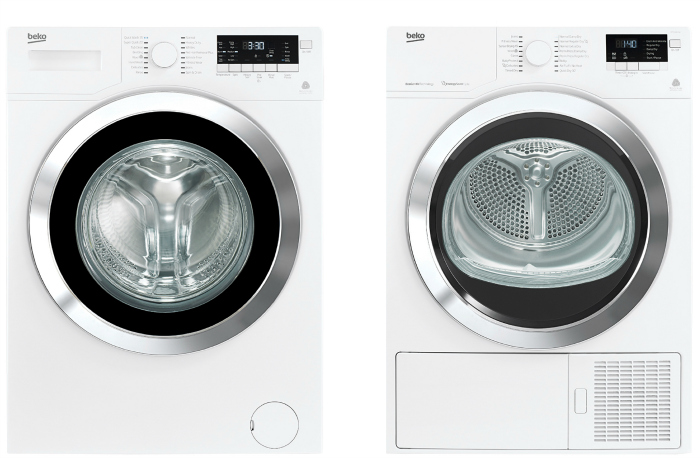 July 7, 2017
Beko, the European freestanding home appliance brand, has just introduced its line of products to the North American Market including the Compact Washer & Dryer. The pair can transform any 2-ft. nook into a laundry room and boasts 2.5 cu. ft. of washing capacity and 4.1 cu. ft. of drying capacity, meaning you can even wash and dry a comforter with these small but mighty units.
The Ventless Heat Pump Dryer (HPD24412W), an ENERGY STAR Most Efficient award winner in 2017, uses a closed-loop heat exchange system to conserve and reuse hot air during tumble-drying cycles. The Beko washing machine (WMY10148CO) features ProSmart Inverter Motor technology, which revs at up to 1400 RPM for fast washing and water extraction while reducing noise. It also features a Pet Hair Removal mode, which adds special pre-wash and rinse cycles to the normal wash cycle.
Other features of the washer include Super Quick 20 for slightly soiled, unstained and small amounts of laundry; OptiSense, which determines garment needs and triggers optimal washing conditions; and a dedicated Jeans Cycle. Dryer features include Anti-Creasing, Gentle Care and Quick Drying.
The washer measures 32 ½ by 23 ½ by 24 ½ inches (not including handles) and plugs directly into the dryer, which measures 32 ½ by 23 ½ by 22 inches (not including handles). Both units are white with chrome door rim and cycle knob and can be stacked.
Find more solutions for the laundry here.