Bosch Laundry Pairs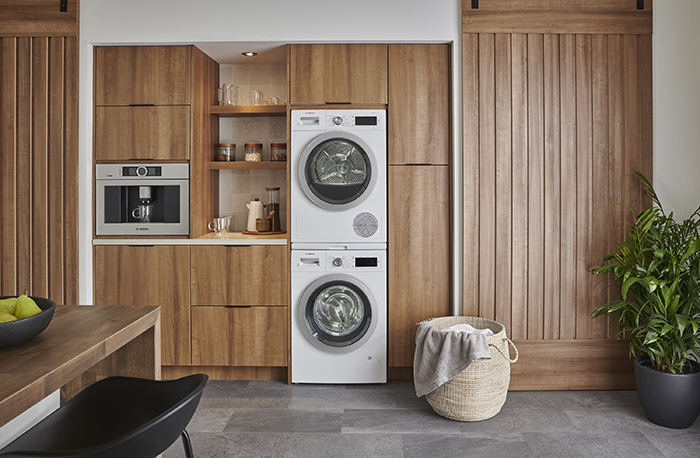 February 9, 2021
Redefining sustainability in the home, Bosch home appliances is kicking off 2021 with a new first: a complete portfolio of ENERGY STAR certified 24-in. compact laundry pairs, meeting a sharpened consumer desire for reliable, efficient appliances and simplicity in the home. Marking a new era of sustainability for the brand, Bosch also today announced its latest laundry innovation, the 500 Series compact laundry pair with heat pump drying technology, is recognized as the Most Efficient of ENERGY STAR 2021.
The full Bosch laundry portfolio is designed for consumers looking for sustainable, effective laundry solutions in the home that also simplify this chore through connected capabilities as well as time-saving features like SpeedPerfect for 40% faster wash times*and a 30-minute dirty-to-dry cycle. When it comes to sustainability, however, the Bosch 500 Series compact laundry pair with heat pump drying technology takes efficiency to the next level, offering:
The most efficient dryer in its class

**:

Alongside Bosch's advanced washing technologies for efficient water and temperature levels, the new 500 Series heat pump dryer is 60% efficient*** and functions as a closed-loop system, with no heating element, condensing water and recycling warm air to efficiently dry clothes.
America's only heat pump dryer with a Self-Cleaning Condenser

****:

Bosch's most impactful laundry innovation yet, the

patented

Self-Cleaning Condenser eliminates the need for consumers to continually clean and maintain the condenser manually, ensuring consistent dry times and energy efficiency, load after load.
A Space-Saving Design: A reversible dryer door and ventless drying technologies on Bosch 500 and 800 Series laundry pairs allow for side-by-side or stacked installation, perfect for small spaces, such as urban lofts, guest suites, secondary vacation homes or even master closets.
Connected capabilities for greater convenience and energy savings: Further simplifying laundry day, Bosch 500 and 800 Series laundry pairs with Home Connect enable consumers to start and monitor cycles using their smart device, allow access to smart cycles like EasyStart that remove the guesswork in choosing the right program for each load and will even send a notification to connected devices when cycles are complete. The Home Connect app also allows users to easily monitor energy and water usage for each wash program.