Ruvati Fiamma Laundry Sink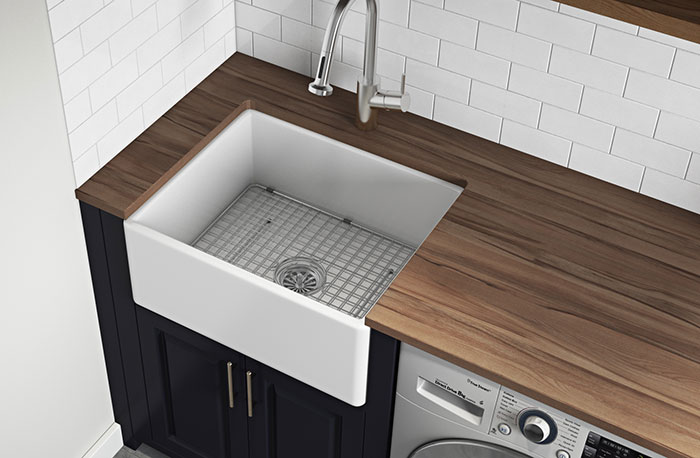 July 15, 2021
Ruvati's new Fiamma fireclay farmhouse sink brings drama to the laundry room with a stylish apron-front design and compact dimensions perfect for small spaces. Fiamma is also a smart choice for large kitchens with the space and need for a secondary sink.
As part of Ruvati's Fiamma fireclay collection, the new laundry sink is handcrafted in Italy by skilled artisans using a naturally white clay found in only a few regions of the world. Fireclay has long been a favorite material for sinks throughout Europe where it is known for beauty and resilience. Ruvati uses a high-temperature firing process to produce a finished sink of superior strength with a fused enamel surface that is impervious to chips, cracks and scratches.
The stylish Fiamma sink can deftly meet the demands of today's busiest households. An extra-deep bowl can accommodate piles of hand laundry with ease. Its fresh modern farmhouse look is on trend, and its glossy white surface is both beautiful and durable. Available with dual installation options as an undermount or drop-in, the sink measures 23 inches wide by 18 1⁄4 inches front-to-back, with a 9-in. deep internal basin. As with all the brand's products, the Fiamma sink is backed by Ruvati's Limited Lifetime Warranty.