Samsung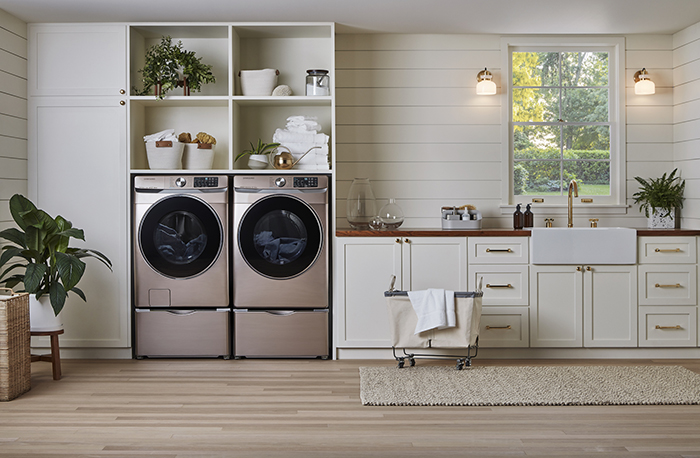 May 23, 2019
Samsung Electronics America Inc. has announced the availability of its fully redesigned front- and top-load washers and dryers. Samsung's new laundry products center on bringing natural finishes and technology together. Samsung's new champagne stainless-steel finish brings a sophisticated and design-forward color to the modern laundry room. Beyond the new look, the washers offer increased capacity and outstanding cleaning performance. With new Super Speed cycles, a load of laundry can be completed is as little as 30 minutes without sacrificing cleaning performance.
Families can receive end-of-cycle notifications on smartphones, Samsung televisions or their Family Hub refrigerators. They can also remotely start and monitor their washer and dryer and receive cycle recommendations based on the loads they are washing.
Great for standalone applications, with pedestals or stacked, the new front-load design features a repositioned, slimmer control panel and 2.7-in. narrower depth, ideal for providing more space in the laundry room without sacrificing capacity. Like the front-load washers, the new top-load line is fully redesigned with contemporary design and innovative new controls. Top-load washers feature a built-in water faucet for pretreating clothing and an extra-large capacity – 5.0 cubic feet – tub design has been raised for easy loading and unloading.
Samsung's new matching dryers give families worry-free drying by automatically adjusting the time and temperature to help protect clothing, while new steam features smooth away wrinkles and remove static.
Designer colors are available across the line. Samsung's front-load washer WF6300 and matching dryer DV6300 are available in champagne, black stainless steel and white. WF6100 front-load washer and matching dryer DV6100 are available in champagne and white. Top-load washer WA5400 and matching dryer DV5400 are available in black stainless steel and white. The WA5200 top-load washer and DV5200 dryer are available in white.