Samsung AI-Powered Bespoke Washer & Dryer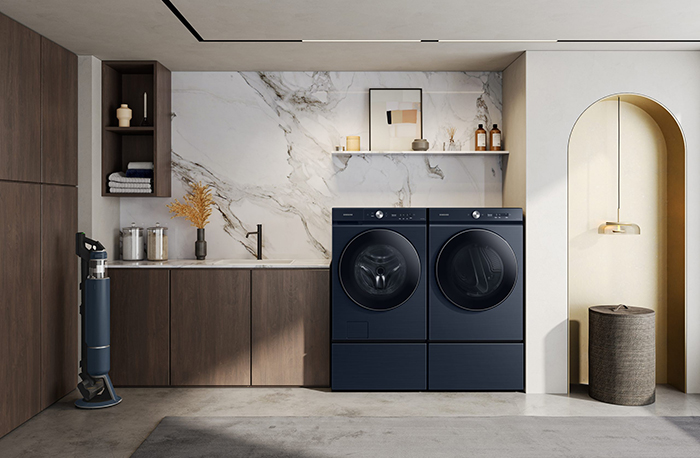 August 13, 2022
Samsung is reimagining laundry day with its new AI-powered Bespoke Washer and Dryer, now available for pre-order. The elegant duo combines Samsung's most advanced cleaning technology and capacity for an optimal – and effortless – clean. And with its sleek flat-panel design, premium color choices and flexible installation options, you can create a look that's uniquely you.

Whether your aesthetic is understated or unconventional, Samsung Bespoke helps you express your personal style throughout your home and elevate your space.
The new Bespoke AI Laundry comes with elegant flat-front design features scratch-resistant tempered glass doors and a choice of three premium colors – brushed black, silver steel or brushed navy – so you can select the hue that complements your décor.

Flexible installation options allow you to place them side by side or stack your dryer on top of your washer to fit your space while giving you the option to change your configuration in the future. For easier loading and unloading, you can use Samsung's Bespoke Pedestals to elevate your washer and dryer by more than a foot. Plus, with the largest washing machine capacity in its class, the Bespoke 5.3-cu.-ft. Ultra Capacity Washer lets you fit more – even a king size comforter – so you can do fewer loads.
Samsung Bespoke AI Laundry pair is equipped with advanced AI technology that eliminates the guesswork when it comes to cycle selections, delivering optimal cleaning every time. The Bespoke Washer's AI OptiWash feature senses dirt levels and fabric types, and selects the best wash cycle and detergent amount so you don't have to. Simply store detergent and fabric softener in your machine and the Auto Dispense System takes care of the rest. The Bespoke Dryer's AI Optimal Dry function uses an Advanced Moisture Sensor to detect the dampness of your freshly washed garments, automatically adjusting the cycle and optimizing temperature settings to reduce clothing wear and tear.

For those who prefer a stacked installation, the washer's MultiControl panel lets you conveniently control both units from one central display, putting everything within comfortable reach. And when you're tight on time, the Super Speed cycle lets you wash and dry a full load of laundry in under an hour without sacrificing powerful cleaning and drying performance.