Whirlpool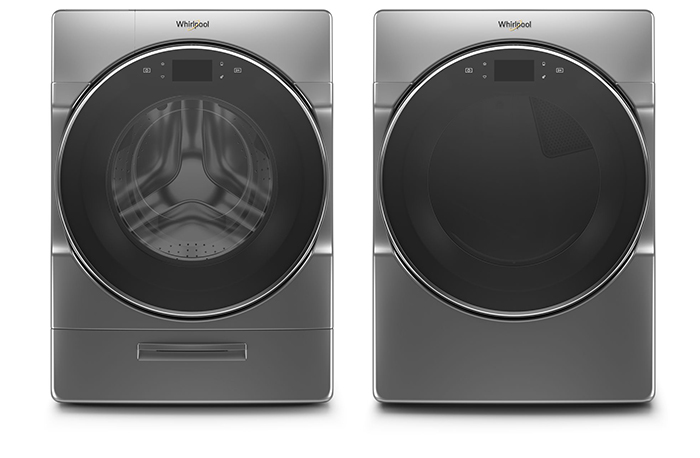 January 7, 2019
The new Whirlpool Smart Front Load Laundry Pair is a washer and dryer designed to provide an extra layer of reassurance that laundry will be done right without tethering users to the appliance. With Whirlpool brand's most innovative features to date, the Smart Front Load Laundry Pair takes the hassle out of laundry and offers a combination of smart capabilities and new features for Whirlpool brand's latest laundry release.
The Whirlpool Smart Front Load Laundry Pair's innovative features include:
Load & Go Dispenser: Skip a step in a busy day by eliminating the need to measure and fill the washer with detergent using the Load & Go dispenser. Automatic dispensing ensures each load gets the right amount of detergent, at the right time, giving clothing precise fabric care.
Intuitive Touchscreen: Let the washer or dryer guide the right cycle combinations or customize up to 35 cycles to get the right type of fabric care. Get instant access to the settings used most with a touchscreen that learns, adapts and suggests customized presets based on families' routines.
Voice Control with Compatible Voice-Enabled Device: Coming in 2019, you will be able to keep up with laundry, even when in the middle of cooking dinner, with simple voice commands using the Google Assistant or an Amazon Alexa-enabled device. You will be able to access features of the Whirlpool® Smart Front Load Laundry Pair from the comfort of the living room using Amazon Alexa Google Home, or Apple Watch.
Coming in 2019, Smart Laundry Capabilities with the Whirlpool app: When enjoying time with family, control the Whirlpool Smart Front Load Laundry Pair through a smartphone with the enhanced connection features from the Whirlpool app. Connected capabilities include:

Dryer Recommendation: Get the right kind of dry for your load. The Whirlpool app will suggest the dry cycle that matches the wash cycle.
Task Manager: Manage laundry day from anywhere. The Whirlpool app will allow users to assign family members tasks like transferring a load to the dryer, which they'll receive a notification about on their smart mobile devices.
Stain Guide: Get an extra hand with select stains. Tell the Stain Guide what was spilled on various fabric types for easy-to-follow recommendations and a suggested wash cycle.
Amazon Dash Replenishment: Automatically reorder laundry supplies such as detergent from Amazon when running low so families can replenish before supplies ever run out.