Kolbe Windows & Doors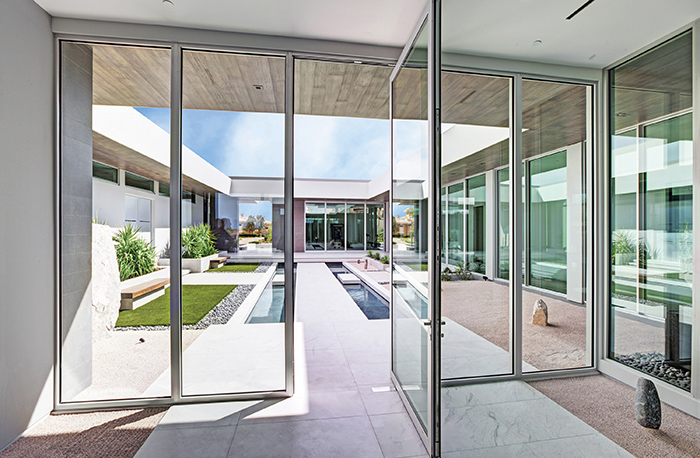 April 22, 2020
Kolbe Windows & Doors has entered into the aluminum window and door market with its introduction of the VistaLuxe Collection AL LINE – a full selection of thermally broken all-aluminum windows and doors. Kolbe's VistaLuxe AL LINE offers tilt-turns and hoppers, casements and awnings, direct sets, swinging doors, pivot doors, folding doors, multi-slide doors, lift & slide doors and Hi-Finity multi-slide doors. With distinct options, the all-aluminum line offers a choice of popular colors with powder-coated or anodized finishes.
Kolbe's VistaLuxe AL LINE multi-slide door appears as a large wall of glass amid the blank canvas of ultra-pure white walls. All four of the 5-by-9-ft. panels operate from either side to provide a maximum opening of 10 feet, delicately outlined with an onyx interior and exterior finish. Largely consisting of glass, an inswing entrance door from Kolbe's VistaLuxe AL LINE provides a light-filled entryway with sizable views. The steel gray interior and exterior finish offers a sophisticated alternative to black hues. A configuration of stationary and operating windows creates a 10-ft.-square opening that allows ample views and ventilation. The ultra-pure white frames of the combined tilt-turn, push-out casement and direct sets recede into the surrounding wall so all that is seen is the view.
Find more products for outdoor living here.