Scavolini Formalia Outdoor Kitchen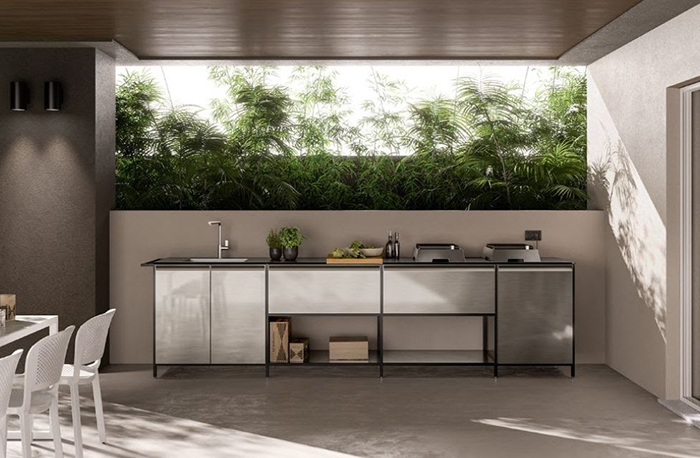 May 9, 2023
Italian kitchen and bathroom manufacturer Scavolini has launched its Formalia Outdoor kitchen collection to mark its new venture into the great outdoors. Extending the well-established Formalia indoor collection, Formalia Outdoor is truly modular, with each configuration customizable to your needs and outdoor living space.
Designed by Vittore Niolu, in collaboration with Scavolini, the new offering includes 19 distinct elements that can be combined with state-of-the-art appliances. These elements include units of different sizes, doors, shelving, handle profiles and worktops. This level of customizability allows for the creation of highly personalized outdoor kitchen spaces that are both functional and stylish.
The Formalia indoor and outdoor collections share many features for a cohesive design aesthetic. One such feature is the Status Wall System of open shelving, which is perfect for keeping cookware, plates and condiments close to hand. It is made of high-quality aluminum and available in three finishes — rust, black and titanium.
As with all of Scavolini's collections, the materials used to create Formalia Outdoor are carefully selected. For example, the structure and top, which includes a built-in washing area, are available in high quality steel. Additionally, you can choose from two different door finishes — steel for a high-tech and sophisticated look or Okumè plywood with a teak finish for a warming texture. Both options are highly resistant to humidity, weather changes, temperature fluctuations, and wear and tear.
The collection also represents a significant turning point in the company's history, as it seeks to elevate outdoor spaces to the same level of comfort and style as indoors, allowing homeowners to enjoy their gardens to the fullest.