Schonbek Beyond Collection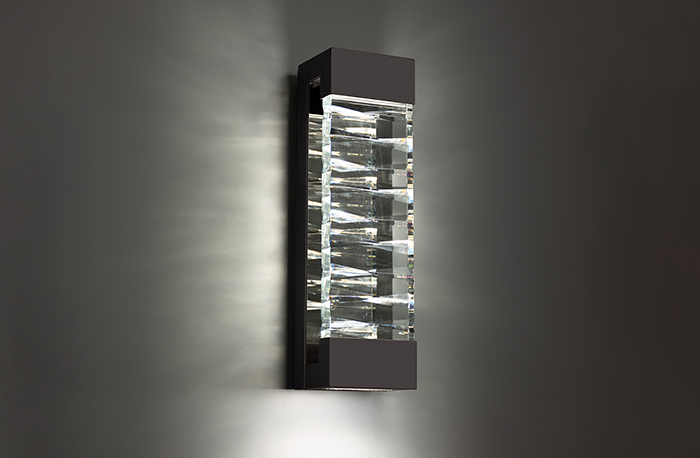 October 17, 2023
Schonbek has introduced elegant exterior wall sconces to its Beyond Collection. The new exterior wall luminaires from the Schonbek Beyond showcase sparkling crystal elements that twinkle as they reflect and refract illumination from hidden LEDs. Designs include:
Labyrinth (pictured) offers sparkling clear optic crystal that combines the uncomplicated appeal of simple cuts with the playfulness of mirrored reflections. 
Dreamcatcher features an abundance of crystals capturing and reflecting our dreams and desires. Sparkling illumination from LEDs held within the 316 marine-grade stainless-steel frame's confines is reflected and amplified, showering your space with shards of light. 
Strata is a trifecta of optic haze crystal bound within a stratum of metal planes. LEDs individually illuminate each faceted piece of crystal to provide the perfect sparkling wash of light. 
Vail features precisely cut optic haze crystal framed by plane opaque matte metal. LED illumination reflects a mirror-like stainless steel backplate, casting light through the crystal and highlighting its distinctive patterning. 
Vesta creates a multi-dimensional design statement made by patterned cloudy crystals intersecting with reflective plates to create dynamic lines of light. 
Like an all-seeing eye, a faceted crystal gem clasped within a sleek triangle, Mythical emanates divine rays of sparkling illumination—a symbol for the ages. 
Glacier unites bold geometric angles and clear crystal in an interlocking pattern that delivers textured backlit, edge-lit and downlight illumination with a sleek, black base casting downlight for wayfinding at night. 
Vida features an angular form accented by a trio of faceted optic crystal that presents a multi-dimensional design. Lose yourself in the depths of reflection from its up-and-down illumination. 
The clean lines of Polar frame a shimming pour of crystal. Illuminated from above, a brilliant column captures rhythms and textures of transparency, luminosity and shadows, creating a stunning focal point on a luxury home's exterior. 
Infinite unfolding facets create a multilayered depth that draws the eye and imagination inward with Cascade. Sleek metal bars frame chunks of crystal, delivering sparkling LED illumination to light facades in splendor.
Photo credit: Schonbek