Skargaarden Böste Chair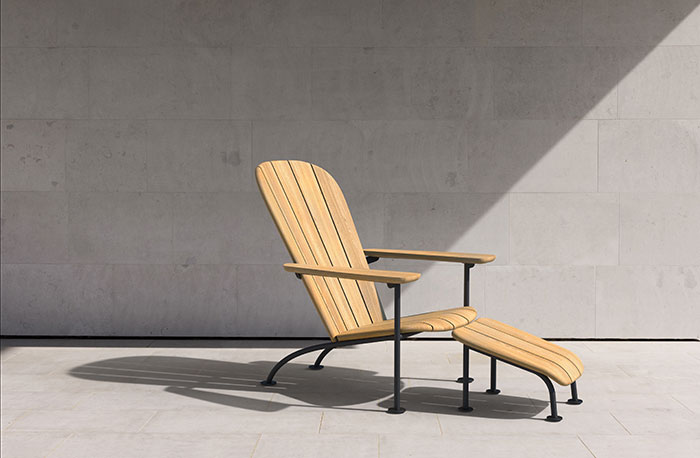 November 13, 2023
Swedish outdoor furniture producer Skargaarden has introduced Böste, a Scandinavian interpretation of Thomas Lee's iconic Westport Chair, designed by Stefan Borselius and named after his hometown Böste in southern Sweden.

The first Adirondack chair — named after the Adirondack mountain range in New York — was created in 1903 by Lee, and the following year, it was patented and put into production by Lee's friend Harry Bunnel, who ran a carpentry workshop. Lee wanted to create what he called the "perfect outdoor chair" for his house in Westport on Lake Champlain. Therefore, the chair was named Westport chair when it was launched. The chair was immediately praised and highly sought after and over the years it has been produced in many different interpretations and carried many names. Today, 120 years later, Adirondack chairs are still among the most popular and iconic chairs outdoor environments where people crave maximum comfort. Although the chairs might come in many shapes, they are all still inspired by the original Westport chair.
The brilliance of the Westport chair's design lies in the angles from the seat to the back and from the legs to the seat. Originally, it is believed that the reason for this design was so that the chair could be used on uneven terrain, but today the design is mainly associated with outstanding comfort, which allows the user to sink into the reclining chair and relax.
Borselius' interpretation of the Westport chair for Skargaarden is a durable, carefully processed version in powder-coated stainless steel and FSC teak that can be left outside all year round. Like a sea-polished stone, the armchair has rounded edges and soft shapes, and over the years the surface will acquire a beautiful silver-gray patina. Borselius designed the Böste collection with soft beaches, hard rocks, grass between your toes, the poolside, or a luxurious roof terrace in mind. It is a highly comfortable chair for sun, rest, relaxation, and social occasions – with armrests wide enough to double as small tables for wine glasses, nut bowls and a book.
The chair gets its name from Borselius' hometown of Böste, an idyllic fishing village in southern Sweden close to the famous lighthouse of Smygehuk. The small village consists largely of whitewashed houses from the 19th century with straw or shingle roofs. Many of the houses are located right down by the water where the plots stretch out towards the bright sand and the sea. The beach is open to everyone, but it is still a little hidden gem on the south coast. During a walk along the beach, it is not uncommon to see an Adirondack chair or two in the dunes.
Photo credit: Skargaarden