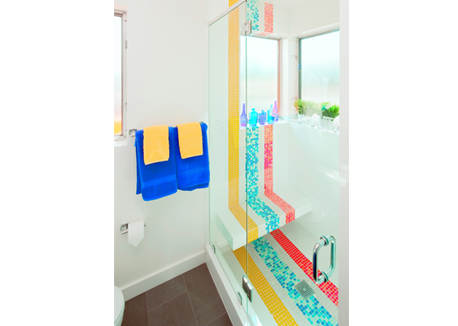 October 11, 2011
Have you ever encountered that client who not only dreams in color, but lives there too, their vibrant and artistic personality reflected in everything they do, everything they have, everything they touch? If you're one of the lucky ones who answered "yes," then you know your design has to be equally vibrant and artistic—and just overall spectacular. They want nothing less than extraordinary and you need to deliver, make that splash and maybe even create an award-worthy project.
Designer Elina Katsioula-Beall, CKD, of Pasadena, CA-based DeWitt Designer Kitchens, did just that. She takes this year's Bath of the Year award for her inspiring approach and fresh perspective in creating a small second-floor master bathroom with first-rate appeal. Set in a Santa Monica, CA, home with a colorful exterior where deep, cobalt blue dominates and bright orange and pink play starring roles, the bath project was unofficially dubbed "Mediterranean Breeze" by Katsioula-Beall, as its design pays homage, specifically, to the Greek Isles with a nod to California beach. Light and airy with a refreshing white and blue color scheme, the space has a decidedly seaside feel, yet is subdued in comparison to the rest of the house and quite elegant in its simplicity. "There's meticulous attention to detail without being fussy," said Katsioula-Beall.
"White always looks fresh and clean but it's a little tricky to make it less than mundane," she said. "But it can come to life when paired with light and reflection." It's no wonder, then, that Katsioula-Beall opted for windows in the shower, which, according to the designer, was a key element to animate the basic color scheme. "The sunlight enters the shower and reflects on the mirrored surfaces, directing daylight in various directions to make the white gleam," she said. In addition, a careful selection and placement of bold, summer-like colors take the "boredom out of white and make it come alive."
But according to the designer, it's all about the delicate balance of proportion and Gestalt-inspired unified wholes. "When it comes to visual perception, I believe a design should transcend its components to be more than just a summation of its parts," said Katsioula-Beall. "Parts that are put together in a precise way." To that end, colorful bands of mosaic glass tile adorn the shower floor to ceiling and continue out of the shower to the wall adjacent to the vanity. "It's a simple and playful element that makes the white pop and adds some visual contrast and interest."
Color makes a statement in other areas of the bath as well. A vibrant blue storage unit calls to mind the exterior of the house, but its built-in hamper proves it's not just about color but also everyday function. "The client is very connected to her artistic self, which is reflected in her personality," said Katsioula-Beall. "She loves this particular shade of blue, often found in Santorini [Greece] but difficult to find here." Museum-replica Cycladic figurines in white marble and colorful lithographs by Greek artists Vasilis Fassianos and Dimitris Mytaras pick up the color scheme of the bathroom and, placed strategically around the room, create a cohesive design.
"This is the space where you get prepared for the day, and it shouldn't push you for action," said Katsioula-Beall. "It's clean, it's fresh, it's meditative, a place where you can just groom in a quiet mode." But it's a cheerful one at that. "I love this project," said Katsioula-Beall. "Projects like this only happen with a dream client, specifically when there is this synergistic connection and interaction between you and them. In this case, the trendsetting homeowner and her husband have keen color sensitivity, and all that mattered to the both of us was creating a space where she'd feel completely comfortable and happy. A pleasant space that brings a smile to her face." And ours.
Sources
Designer: Elina Katsioula-Beall, CKD—Dewitt Designer Kitchens, Pasadena, CA Additional design team members: Karen Frid (color consultant) and Angela Green (drafting)
Manufacturers:
Cabinetry: Columbia Cabinets;
Countertops: Silestone by Cosentino and CaesarStone;
Tile: Arch Stone;
Sink: Kohler;
Faucets: Hansgrohe;
Toilet: TOTO
Photography: © Suki Medencevic