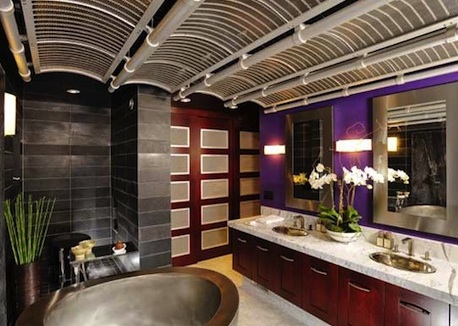 January 27, 2011
When a Palo Alto, California, couple called on Danenberg Design to
remodel their kitchen, little did they know the project would be the
springboard that launched a whole house makeover. The homeowners were so
enthused by the results of their kitchen, they asked the design firm to
continue working on the house, including an overhaul of the master
bath.
The bath's sleek Asian feel is punched up with a vibrant violet accent
color, which has a direct correlation to the homeowner's extensive art
collection. "The wife has a contemporary art collection that
incorporates vivid colors, so the violet wall took wing from the
artwork," said Lanny Danenberg, Danenberg Design. The Eastern influence
comes, in part, from previous travel overseas by Lanny and her husband
Dan, who designed the bath. "We had visited Japan and just fell in love
with the designs we saw there, from the packaging to the interiors,"
said Lanny. "Dan is inspired by design with an Asian influence, so the
project moved in that direction."
The bath's clean symmetrical layout is given a shot of visual "oomph" by
an eye-catching ceiling feature designed by Dan. The stainless-steel
sculpture is patterned after a Japanese bamboo and reed shade trellis
and floats below high-gloss, black acrylic fabric that is stretched
across the ceiling. The fabric reflects the sculpture and gives the
illusion of additional height to the ceiling. Playing off the undulating
ceiling sculpture, luxurious touches, such as hammered nickel sinks and
an elliptical stainless-steel soaking tub, were added, making for a
modern, memorable bath that fits right in with the homeowners' revamped
house.
Sources:
Designer: Dan Danenberg—Danenberg Design, Palo Alto, CA Manufacturers: Sinks: Oregon Copper Bowl Company;
Faucets: Hansgrohe/Axor;
Tub: Diamond Spas;
Tub filler: Hansgrohe/Axor; Toilet: Kohler;
Cabinetry/vanity: Irpinia;
Mirrors: Blomus;
Lighting (sconces): Murano Due;
Ceiling feature: Billard Custom; Stone supplier: ASN Natural Stone;
Photography: Rio Costantini; Project styling for photo shoot: Lanny Danenberg