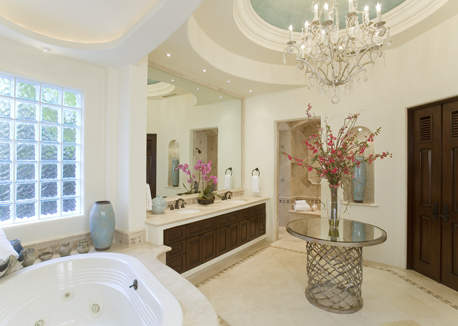 March 29, 2010
For the owners of this vacation home, located in a high-end, gated, master-planned community in the Baja California city of San José del Cabo, Mexico, a user-friendly bathroom was key. But for the wife, who worked closely with Sandra Espinet, owner and senior designer at Interiors by Sandra Espinet, a little bit of glam was also desired.

The starting point? Aesthetics. Because Espinet was charged with designing the entire home, she considered the project as a whole in order to
create a cohesive look. "We started with something the client couldn't live without and went from there," said Espinet. In this case, it all began with a living room rug.
In addition to choosing a thoughtful selection of colors (based on the rug) used throughout the home, Espinet focused on bringing a light and airy quality to the master bath and thus opted for a neutral color scheme with pops of sea foam green. But this wasn't the only reason for the "subdued" palette. "We did this on purpose," explained Espinet, "so when you are in the bathroom, you stand out."

And this is the result thanks to light, cream-painted walls, soft taupe travertine—used for the tub surround and step, as well as the vanity
and shower bench tops—and golden Israeli marble floor tiles that feature a decorative border of taupe and brown travertine to outline the main 14-ft. x 16-ft. space. The same colors were used in the "his and hers" shower area, where mosaics of marble and travertine form an accent wall.
Lighting also plays a significant role in this space. As well as an abundance of natural light from large windows in the adjoining bedroom, a glass door in the shower area and a glass block window over the jetted tub, recessed downlights, cove lighting in the ceiling above the tub, a table lamp in the wife's makeup area and a large (very glam) chandelier in the middle of the room—all on dimmers—combine to create even illumination. Add to that an enormous mirror and a tall domed ceiling and you've got a voluminous and reflective room around which light bounces. As Espinet noted, "It's a great space for putting on makeup."

Perhaps the most exciting of the bathroom's amenities—which also include a large vanity with lots of storage, a jetted tub, a walk-in closet, a
custom iron table and a water closet—is the outdoor shower, which is accessed through the indoor shower. Fully clad in locally quarried
natural stone to match the exterior of the house, whose architecture is "a little bit of Mexican, but tropical and updated from the traditional
Mexican hacienda," said Espinet, it affords a convenient side entry to the master suite from the backyard swimming pool.
Equal parts elegant and well-appointed, this glamorous bath will be a destination its owners will look forward to visiting during their time away from
Mexico.

SOURCES
Designer: Sandra Espinet—Interiors by Sandra Espinet, San Diego and San José del Cabo, Mexico; www.sandraespinet.com
Manufacturers: Cabinetry: Mario Urbina Cabinetry; Toilet: Kohler; Tub: Jacuzzi; Sinks: Kohler; Faucets: Newport Brass; Shower fittings (indoor and outdoor): Newport Brass; Lighting: Murray's Ironwork (chandelier); Tile (indoor and outdoor) and stone: Natural Stone Inc; Hardware: Newport Brass; Makeup chair: Jan Showers
Photography: © Francisco Estrada