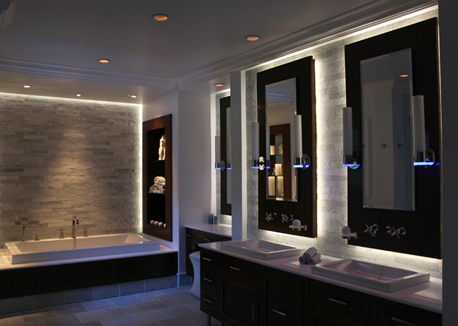 October 25, 2012
A versatile lighting scheme, exquisite stone finishes and a keen attention to detail come together to inspire glamour, drama and upscale comfort in this honorable mention-winning project by Miriam Weinreb Lissak, principal of Weinreb•Schultz Design Associates.
Located in Purchase, NY, the bath results from the merging of his and hers bathrooms and is part of a larger remodel that included a dressing area, a hallway and the entrance to the master suite. The new bath incorporates a series of pilasters, soffits and crown molding that visually tie it to the other spaces and lend it an elegant feel.
The air of modern refinement is further enhanced by a restrained palette of finishes. Throughout, Himachal White quartzite tiles in various sizes and shapes add visual and textural interest to vertical and horizontal surfaces. Their bluish-gray variegated tones are contrasted with dark ribbon mahogany, which was specified for the vanity, medicine cabinet frames, shelving and tub surround. And marble tops the vanity and a makeup table, as well as the tub deck.
All are skillfully illuminated with a combination of discreet downlights, concealed LED light strips and sconces that also serve as nightlights, ensuring functionality, ambience and high visual and visceral impact.
Sources
Designer: Miriam Weinreb Lissak—Weinreb•Schultz Design Associates, New York
Architect: Charles W. Reppenhagen
Additional design team member: Marlene Englemeyer, Davis & Warshow (fixture consultant)
Manufacturers: Faucets, valves and cabinet hardware: Kohler;
Tiles: Artistic Tile;
Shower: Rohl;
Sinks: Duravit;
Toilet: TOTO;
Tub: BainUltra;
Medicine cabinets: Robern;
Lighting: Lighting Center (LEDs), Kohler (sconces)
Photography: © Victoria Treble and Joseph Lissak