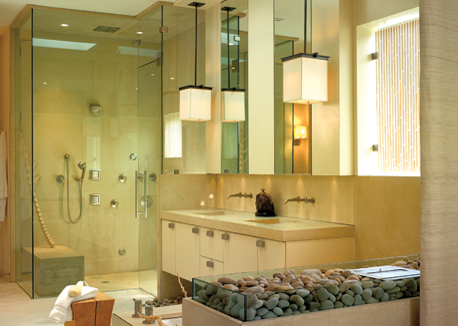 April 14, 2010
When "sleek and modern" marries "warm and natural," a certain majestic symmetry is often born. We could be talking about the homeowners of
this year's top bath design, but we're not. We're talking about the bath itself. Ada Pagano, owner of A. Pagano Design, Inc. in St. Petersburg, FL, was tasked with creating a master bath that appealed to both husband and wife. "My plan was to satisfy both of them by starting with the very clean space he wanted and then layering in the warmth that she was looking for," said Pagano.
She made it happen by mixing contemporary materials like concrete, glass and mirror with bamboo, spa rocks and a warm, nature-inspired palette. Add in a whole lot of natural light and a variety of textures and patterns, and you strike just the note the homeowners wanted.
The homeowners also requested that the bathroom be romantic and soothing, reminiscent of the high-end spas they frequent on their extensive travels. Pagano, contractor Joe Rokop and project manager Kathy Marie worked closely together to create an open and flowing space perfect for everyday grooming, but able to transform into a spectacular retreat. "It was important that there be a natural ease when moving through the space
and that it was soothing whether they were actively getting ready or relaxing," said Pagano.

To optimize the square footage and create a natural flow, the central floor space was left open, and the various zones—tub, shower and sinks—were fit in around it like puzzle pieces. Mirror and reflective glass were also used throughout to make the space appear larger.
For even more openness, the wall separating the bath from the adjacent bedroom was removed, and a motorized silk drapery panel was installed
to close off the space when need be. Two skylights overhead also add to the open feel and flood the space with natural light. More light is captured by the exterior windows, which are covered by a translucent resin panel secured with stainless-steel brackets. They allow sunlight to stream in while also providing privacy. Sandwiched between the resin panels is bamboo, adding a natural element and some great texture. "It gives a very organic feeling to the room," said Pagano. "And it cuts some of the glass and reflective properties with something that has a natural feel for a level of comfort."

Each zone within the bath is self-contained and cozy, but the tub area is the real centerpiece. Its filler is mounted on the ceiling for dramatic effect, and a mini fire element is placed within the spa-rocks display adjacent to the tub deck. Because the rocks also function as a room divider between the bedroom and bath, the fire can be seen from both rooms.
Natural light, natural tones and a variety of textures work together to create a truly special bath worthy of the title, "Bath of the Year."
SOURCES
Designer: Ada Pagano—A. Pagano Design, Inc., St. Petersburg, FL
Contractor: Joe Rokop—Rokop General Contractors, Inc.
Additional member of the design team: Kathy Marie
Manufacturers: Cabinetry: Ada Pagano, Harden House; Hardware: Häfele; Tub and faucets: Kohler; Concrete fabricator: Concrete-N-Counters; Flooring: Unicork; Lighting: Holly Hunt
Photography: © Everett & Soulé