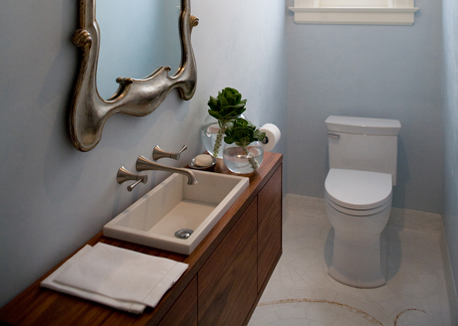 April 23, 2010
In lesser hands, a 3-ft. x 9-ft. powder room may not offer much in the way of opportunity, even if the powder room is part of the San Francisco 2009 Decorator Showcase. But with some creative thinking, an understanding of proportion and an eye for whimsy, Stephanie Marsh Fillbrandt, of Marsh & Clark Design, was able to turn a small, dated and otherwise negligible space into a light and airy crowd-pleaser—all within a three-month time period.
As the only restroom on the main entertaining floor of the show house, an Edwardian-style circa-1910 mansion, the existing powder room was
"old-fashioned-looking" and cramped. Architectural molding weighed heavily upon the space, a Victorian-inspired stained-glass window limited light penetration, an unattractive medicine cabinet jutted into the stairwell behind the powder room and a pedestal sink impeded pass-through to the toilet. Fillbrandt decided to strip the existing powder room "down to the studs," but in doing so, also discovered another problem: multiple layers of "bad" flooring that together measured a few inches deep. "It was crazy," she said, "we just kept finding more layers."

To open up the space, Fillbrandt opted for a pale color palette and an elegant yet streamlined aesthetic. On the walls and ceiling, for example, Venetian plaster in a light watery blue helps reflect light, creating the illusion of more height and depth, and off-white limestone and marble mosaics on the floor and baseboard keep the look clean and clutter free. Reflecting Fillbrandt's interest in Art Nouveau shapes, the floor showcases a decorative scroll motif that extends up a wall, creating interest. "I knew we couldn't put a lot of art or objects on the wall that would project into the room and confine it," Fillbrandt said. "The idea of that little detail was a way to keep your eye interested and to give the space a little artful flair."
The scroll motif is echoed in a new contemporary art-glass window, whose muted colors introduce more natural light, as well as an oversized
antique vanity mirror borrowed from another of Fillbrandt's projects. According to Fillbrandt, the repetition of shapes not only lends continuity and cohesion, but also helps guide one's eye through the space. A simple wall-mounted faucet, a floating vanity in eco-friendly machiche wood and an off-the-shelf glass pendant complete the design.

Given its exquisite detail and soothing hues, that Fillbrandt's powder room attracted much attention and even led to requests for a similar
treatment in private homes may not come as a surprise. Despite its modest footprint, this merit winner proves that size doesn't always
matter.
SOURCES
Designer: Stephanie Marsh Fillbrandt—Marsh & Clark Design, San Francisco; www.marshandclark.com
Additional members of the design team: Christiana Ferroggiaro, Chiya Ewald
Manufacturers: Tile: Pippa Murray Mosaic; Vanity: Rob Taboada Furniture; Faucet: Cifial; Sink: North Bay Stoneworks; Toilet: TOTO USA; Window: Bonny Doon Art Glass; Lighting: West Elm
Photography: © Elisabeth Fall