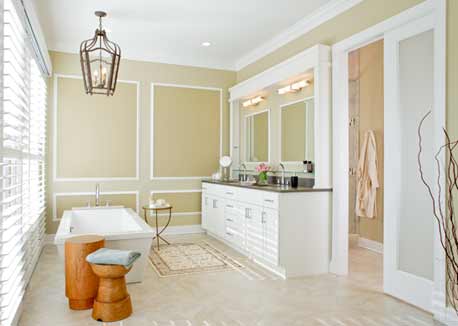 July 14, 2011
Every decade has its great moments in design…and conversely, also produces those less-than-stellar moments that are probably best forgotten. When the owners of a five-story townhouse built in the 1980s contacted Bruce Wentworth, of Wentworth, Inc., they needed to remodel their master bath, which in addition to looking dated, was also oddly planned.
"They wanted a timeless and more up-to-date look," said Wentworth. "The owners weren't happy with the pink and white marble that was in the space. There was also a large mirrored wall and a platform tub that they didn't like—they were always tripping over it."
In addition to its glaring aesthetic issues, the bath also suffered from poor functionality. Though amply sized, it wasn't configured logically. "The bath just wasn't well-planned," said Wentworth. "The way it was set up was a waste of space." A large south-facing window wall, which looks onto the street below, also brought up privacy concerns, but at the same time, the spectacular view it provided of Washington, D. C., needed to be preserved. Wentworth decided "to create a public and a private space within the bath to make it functional."
A new partition was created for the toilet and shower, giving the homeowners much needed privacy. The "public" space with the window wall houses a double-sink vanity and a large freestanding tub, perfect for relaxing while taking in the views of the cityscape. A wall of sliding louvered panels helps with daylight control and blocks views into the bath from the street when desired.
In contrast to the white, pink and gold color scheme of the original design, Wentworth specified warm neutral tones throughout the bath to impart a feeling of timelessness. The space is kept light and airy with a custom white vanity, white trim, the large window wall and frosted-glass-paneled pocket doors that separate the bath's two zones. The room also boasts high ceilings, which are made more intimate and human in scale through a frame that encloses the mirrors above the vanity, as well as darker-toned panels edged by white molding on the wall next to the tub.
The homeowners ended up with a master bath that embraces the stunning city views, while simultaneously offering privacy. And best of all, the '80s have been left behind in favor of a design sure to weather the test of time.
Sources:
Designer/ Architect: Bruce Wentworth, AIA, Wentworth, Inc.,
Sinks, Shower fittings: Kohler,
Faucets, Tub filler, Shower accessories (towel bar/hooks): Grohe,
Shower tile: Arpa, Jud Tile, Durango,
Shower door, Mirrors: Chevy Chase Glass Co.,
Tub: MTI,
Toilet: TOTO,
Cabinetry/vanity: Custom by Wentworth, Inc.,
Countertop: Silestone,
Flooring/tiles: Arpa, Jud Tile,
Paint: Benjamin Moore,
Lighting: Lightolier, Tech Lighting (sconces),
Photography: Ron Blunt