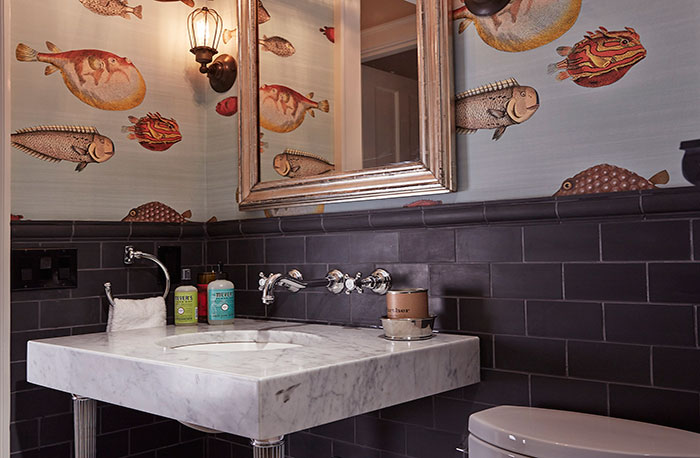 December 29, 2017
  The understated silver-leaf 1920s mirror is an antique that gives the space pedigree.
Renovating a 1900s-dated home definitely has its pluses and minuses. Although there are usually unforeseen construction issues behind an aging structure, these homes often feature distinctive and timeless elements as well.
Designer Corey Damen Jenkins of Birmingham, Mich.-based Corey Damen Jenkins & Associates worked with one such home, where the client wanted to modernize his bathroom while still retaining its historic charm.
Creating the Illusion of Space
All of the rooms in this home were very compartmentalized because this was the style when the house was constructed. As a result, space was a premium.
"Yet my client wanted a luxurious spa-like space, and he challenged me to create this experience without having to demolish walls or do other 'invasive' surgeries," said Jenkins.
While the ceiling height was generous, the overall square footage was lacking. Jenkins decided to trick the eye into thinking there is more space by using patterned wallpaper; the design runs horizontally and stretches the view of the room, making the space seem larger than it really is.
"I've found that pattern and the judicious use of color could do much to elongate a room," said the designer.
This particular pattern was chosen for its tongue-in-cheek value. With a white background, the wallpaper features a series of poisonous deep-sea fish. Jenkins found irony and humor in the fact that all of these fish are beautiful, yet deadly.
"I enjoy using wallcoverings that are whimsical and edgy conversation starters," he said. "This is especially the case in bathrooms, kitchens and bedrooms, because people spend a lot of time in those spaces. Why look at a bare wall when you can have something that makes you think instead?"
Catering to the Client
Since the homeowner – a young doctor – is 6 ft. and 5 in., Jenkins needed to include some custom amenities that were tailored specifically to his stature. The original sink was set at a low 30-in. height from the floor, which was uncomfortable for the client. Jenkins instead designed a new vanity that stood several inches taller, and now the homeowner can easily wash his hands without having to strain himself.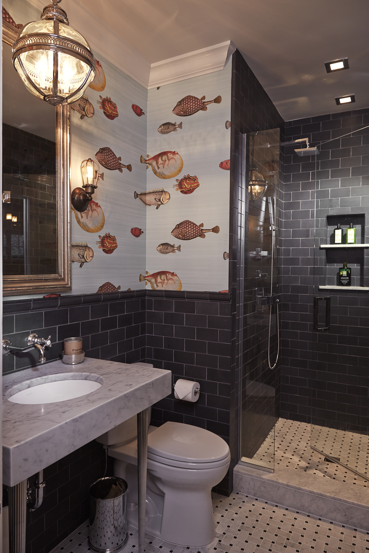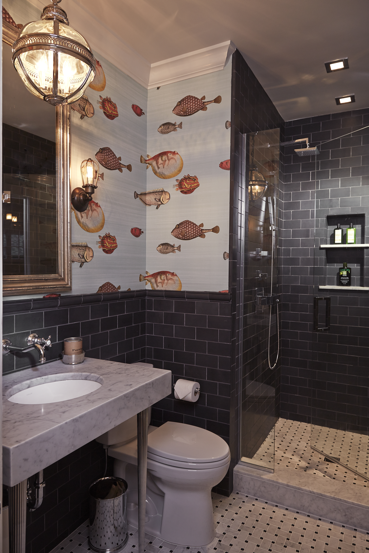 The toilet and other state-of-the-art plumbing fixtures also bring modernity to this bathroom.

"It's awkward for very tall people to bend down to wash their hands in vanities that are too low or for very short people to feel like they're Humpty Dumpty perched on a wall when they're using a commode," said Jenkins. "Scale is everything, and that's the benefit of hiring a designer to custom design your home: it will fit your personal needs."
This open, single vanity is attached to the wall on one side and stands on two pedestal legs. The countertop is a classic marble and holds a small round sink, which is paired with industrial-style plumbing.
"Since the client was also a bachelor, I felt the vanity should have a distinct masculine vibe that wouldn't offend the timeless appeal of the historic home itself," said Jenkins. "This vanity accomplished both goals: it is a great fusion of sleek, modern style with some Art Deco flavor."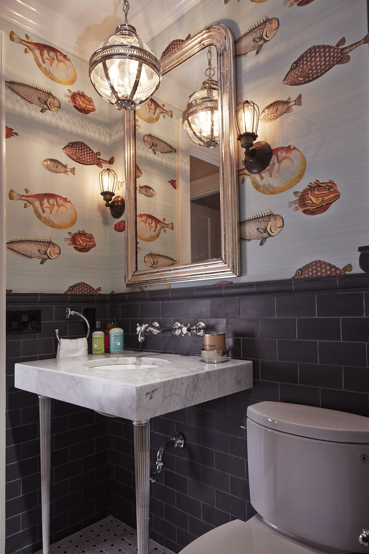 The clean-lined marble vanity pairs with chrome Art Deco-styled legs for a masculine charm.
This homeowner also expressed a desire for some minimalism in the space. With this in mind, Jenkins kept the shower stall design simple by wrapping the walls with a matte-finished black subway tile. A classic black-and-white basket weave covers the shower floor.
"The Art Deco-styled vanity, the neoclassic antique mirror, the rustic caged sconces and the edgy wallpaper are not things one would normally put together," said Jenkins. "But in this case their combination works because the entire mix is totally unexpected. Interior design is an art, and sometimes art imitates life: it's full of surprises."
Source List
Designer: Corey Damen Jenkins, Corey Damen Jenkins & Associates
Photographer: Brad Ziegler
Mirror: Judy Frankel Antiques
Pendant: Restoration Hardware
Sconces: Restoration Hardware
Tile: Ann Sacks
Vanity: Ann Sacks
Wallpaper: Cole & Son