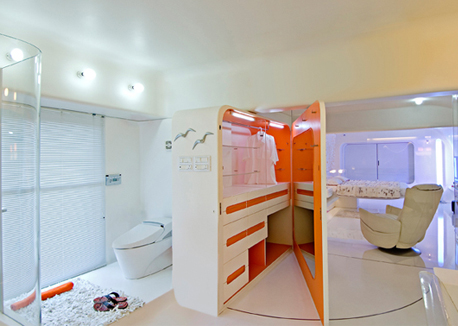 April 17, 2012
The world can be a scary place. And when you're not out and about in it, a home with restorative powers may just be the perfect antidote to life's ills.
Such may have been the thinking behind the remodel of a 2,300-sq.-ft. condo in the affluent coastal suburb of Juhu, India. Conceived by Neemesh Shah, cofounder and director of Mumbai, India-based KNS Architects, as a "cocoon [that] is both organic and futuristic," this personal sanctuary for a family is at once edgy and nearly "edge-less," with floors melting into walls, walls gently curving into the ceiling and partitions minimized to allow for greater openness. The home's interior, said Shah, draws inspiration from the idea of the "infinite nature of the universe" and provides a "framework for total unison of mind, body and soul."
No less healing is the master bath, where Shah's concepts intertwine with functional concerns to create a paradise inside the paradise his clients requested. Like much of the home, the 150-sq.-ft. space is open in plan and flows easily into the adjoining bedroom. According to Shah, the lack of boundaries in the master suite was a critical component of its design, but equally key was the "flexibility of enclosing the open space when needed without disturbing its homogeneity and seamlessness." To this end, a wardrobe and dresser between the two rooms can be opened and its door slid out to serve as a fourth wall for privacy. The unit also provides partial cover for a toilet located on its other side.
Just as they are on the wardrobe and in the home, edges throughout the master bath are rounded where possible, enhancing the room's futuristic feel. Here, too, transitions from floor to wall and wall to ceiling are mediated with soft arcs, and similarly, a platform and the base of a shower enclosure appear to emerge from the floor as if pulled from the same material—in this case, solid surfacing. Shah noted, "A lot of thought went into choosing the right surface finishes, as we desired curvature not only in the walls but also at the floor level." Applied to the walls, floor and shower, solid surface was selected not only for its ability to bend and bow, but also for its ease of maintenance and reflective and acoustic properties. As Shah explained, finish selection can "transform the quality of light and sound" in a room.
But cleanliness no doubt is top-of-mind in a bath that is designed to revitalize and is completely white. The color, or rather the absence of color, imparts to the room a sense of purity and tranquility while further reinforcing its continuity with the rest of the home—also done entirely in white. To keep the master bath free of clutter, toiletries and other necessities are stored out of sight in wall niches whose round shutters are decoratively cut and backlit with warm-white LEDs to resemble a glowing design motif.
Additional items can be tucked away in drawers that anchor the ends of a custom wall-mounted vanity. Integral to the unit is an extra-deep sink that is striking in its own right, thanks to a bottom and tall front both formed of clear acrylic. For a touch of drama, LED lighting accents the latter, while above, an oversized circular mirror adds visual interest. More storage is hidden behind mirrors that flank the vanity. Their reflective surfaces extend the room perceptually and convey the idea of boundlessness.
What color there is can be found in a pendant suspended over the vanity and a color-changing LED-based lighting system that enables the homeowners to reap the benefits of chromatherapy. This, as well as a full range of shower fittings and a whirpool tub, ensures they have all that's required to nurture the body and soul.
That Shah references the womb in describing the home, which has won numerous interior design awards, is perhaps not at all that surprising. Just as the association conjures up notions of security, nurturing and growth, this white paradise and its master bath beckon with a promise of comfort, rejuvenation and inner peace.
Sources
Architects/designers: Kanhai Gandhi, Neemesh Shah, Shresht Kashyap and Sonali Shah, principals; Sapna Gundecha and Sachin Shah, associates—KNS Architects Private Ltd., Mumbai, India
Manufacturers: Surfacing: DuPont Corian
Shower fittings: Hansgrohe;
Lavatory faucet: Dornbracht;
Toilet: TOTO;
Lighting: Artemide
Photography: © Alan Abraham and Rahul Pawar