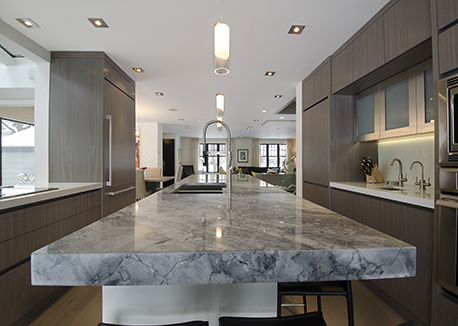 March 26, 2013
Overlooking the Niagara River, an early 20th-century kitchen had all the setting a Niagara-On-the-Lake couple wanted but little of the view. Designer Sandra Kenney of Boulevard Design opened up the space to reflect the home's natural surroundings.
 
"The major inspiration was the beautiful natural surrounding," said Kenney. The waterfront kitchen, set on the back of the house, boasted a view of the river and the rock face of the Niagara escarpment. "I wanted to optimize the available space to meet all of the client's must-haves, as well as maximize the view and the natural light."
Gutting the main floor, the area was renovated for an open concept ― one that allowed natural light in and gave a wider view of the water. "The palette and materials were selected to reflect the natural environment surrounding the home and bring the outside in," said Kenney. Recessed lights and LED under-cabinet lighting supplement the natural light. To keep the sightline open, blown glass cylinder pendant lights, handmade in Murano, Italy, lie flush to the ceiling with a flat canopy and a recessed box.
 
"Given the available space and the desire to create a clean sightline, we focused the work triangle on the sink, cooktop and the refrigerator," said Kenney. The fridge, downdraft exhaust, pop-up receptacles, flat-panel cabinet doors and handle-less drawers all create a seamless look. European white oak hardwood flooring ― with a light brushed surface ― was installed throughout the home for continuity.
Custom, grey-stained, flat-cut walnut cabinetry complements the hardwood floor. "The flat-cut walnut [cabinetry] with its unique coloration provides warmth and brings an organic feel to the kitchen," said Kenney. "The walnut doors are book matched to show off the beautiful grain of the wood and create a sleek, clean look." A high-gloss lacquered island then adds disparity and texture.
"We wanted to contrast the island with the perimeter countertops," said Kenney. Brazilian Arabescato marble, built with a 3-in. mitered edge and 12-in. overhang for seating, creates a dramatic waterfall end on the six-seat island. "The choice of stone and the waterfall end of the island provides the continuity with the great room and dining room that we were looking for and draws the eye in through the kitchen and toward the back of the house," added Kenney.
Organic white stone makes up the perimeter countertops. "The countertop stone reflects the warm neutral interior palette as well as the exterior natural environment," said Kenney. The stone blends with a back-painted starphire glass backsplash over the cooktop.
Stainless-steel appliances continue the seamlessness of the kitchen space. "We chose stainless-steel faucets to blend with the stainless-steel appliances and cabinet doors, as well as the deep, square, stainless-steel, commercial-grade sinks," said Kenney. With a 360-degree swivel and a magnetized hand spray holder, an added Italian faucet adds both function and beauty.
"I love the design of this kitchen, from the palette to the combination of unique materials and finishes," said Kenney. "The kitchen is as beautiful as it is functional, and we achieved everything that we set out to do in the design and construction of this kitchen."


SOURCES
Designer: Sandra Kenney ⎯⎯ Boulevard Design; Senior Bath and Tile Expert: Simonetta Gazzea ⎯⎯ Canaroma Bath & Tile; Construction: Boulevard Design Build; Photographer: Sandra Ozkur; Countertops: Caesarstone Quartz; Faucet: Blanco Culina; Sinks: Julian; Pendant Lights: Lio by Vistosi