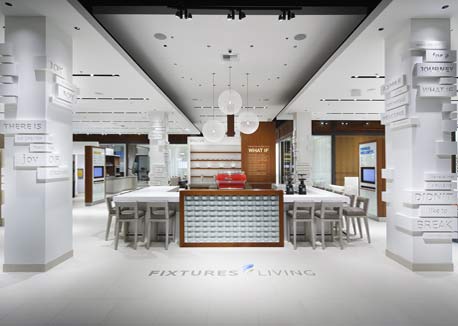 April 5, 2012
When Christian Davies, executive creative director of the Americas for FITCH, received a call from one of the partners at Fixtures Living, the first thing he heard was "I want to reinvent a category." It was a clear indication that this wouldn't be a run-of-the-mill kitchen and bath showroom project.  
Located in Costa Mesa, CA, the 21,000-sq.-ft. Fixtures Living showroom was designed with the consumer in mind, and more specifically, to bring joy back to the process of selecting kitchen, bath and outdoor products. "For the showroom, the thought was: Let's start with the consumer. Let's not start with 'here's a bunch of appliances and which one do you want to buy?'" said Davies, who served as the creative director for the project. Instead the showroom aimed to explore consumers' lifestyles, likes and dislikes, as well as personal visions of their home.
"We felt that we had stumbled upon an industry—known as appliance and decorative plumbing—that felt incredibly underserved, and there wasn't a vehicle that allowed people to understand what was possible in their homes," said Jeffrey Sears, CEO of Fixtures Living. "We wanted to provide a space where you could envision, play and try things that you've never thought of before. It really is a vehicle for people to see these great brands and to help them live a better life."

The design of the showroom specifically addresses the anxiety that can come with choosing products for the home, especially costly ones. "You have these consumers who are nervous and are finding that the process of selecting these items isn't as much fun as they thought it would be," said Davies. "When you ask someone if they want to cook with gas or electric, they might not know why they'd want to cook with one versus the other. It can be a difficult and frustrating experience."
To make the experience of selecting appliances or bath products enjoyable, Fixtures Living encourages visitors to explore their choices by touching and using the products before selecting them. To this end, the showroom offers three fully functional "experience labs," which include a private spa/shower, an ultra-modern demonstration kitchen and a patio, as well as 30 vignettes. All invite visitors to "play" with the fixtures and appliances. For greater accessibility, each vignette avoids technical jargon and exhaustive lists of features, but instead tells stories with the idea of providing a connection between the customer and a brand.
Putting the customer at ease is key in the showroom. Consequently, each visitor is greeted with a cup of freshly brewed coffee. "Then they can have a basic conversation with someone at the store about how they like to cook or what they enjoy about the bath," Davies said. Visitors are then free to wander around the showroom and test out the products. He added, "They can cook in the kitchens or even take a shower in the spa."
Sears enjoys seeing customers relax and engage with the products. "In the Wellness area, to watch adults playing with water, it's like they're seeing it for the first time," he said. Play can also help customers come to better decisions, especially if they're struggling with a more expensive purchase, such as a range. For one such client, being able to test-drive a variety of ranges and see all the finishes enabled them "to make their decision with very little stress," Sears said. "They didn't have to only look at spec sheets and small paint swatches."
An area dubbed "The Sanctuary" is another key example of how the showroom allows visitors to experience the products. A teak-lined house that sits in the middle of the bath area, it includes a showerhead vault featuring more than 30 showerheads, a sauna, massage, a steam shower offering aroma- and chromatherapy and a private toilet. Visitors can enter the area, lock the door and take an actual shower or experience any of the other spa-like amenities. The Sanctuary is "a novelty, a story, but we have customers that come in and actually use The Sanctuary," Sears said. "When they're done, we have towels and robes for them. They come out, dry their hair and make their decisions because they now know which showerhead feels the best or gets the shampoo out of their hair quickly."
After testing out products, customers can retreat to glass-enclosed "dream rooms" for consultation, discussion and planning. The showroom also offers an Anything/Everything desk with installation and service staff as in-house resources to answer any further questions visitors may have.
But the Costa Mesa showroom is about more than just the sale and experience of products. Davies was also mindful of including environmental features. Moreover, the project is pursuing LEED Silver Retail certification for Commercial Interiors and can claim energy efficiency above California's Title 24 requirements. During construction, more than 75 percent of construction waste was diverted from landfill. Gray-water recycling to capture and reuse water from fixture displays was implemented, along with integrated lighting controls and occupancy sensors, low VOC materials and a "green" wall.
"Fixtures thinks this should be fun, this should be a joyful experience, this should be exciting," said Davies. "We set out to create something new that will shake up the industry." Sears echoed the sentiment. "The traditional approach [to kitchen and bath showrooms] is need-based," he said. "You buy something because an appliance breaks down or you've bought a new house. What's happening in this store, people are wandering in and they see these products they didn't know existed but can help improve their lives. They say 'I want that,' and that desire and experience start them in the remodeling process."
Sources:
Fixtures Living showroom, Costa Mesa, CA; Creative Director, Christian Davies, FITCH