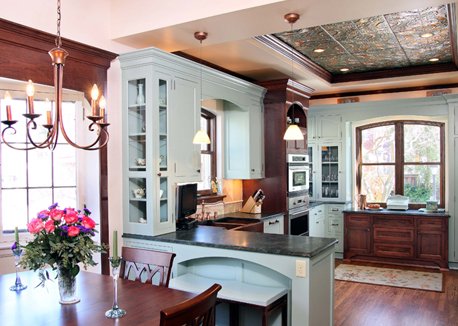 February 1, 2011
For some, the age of an older home is not an impediment, but a source of pride and joy. Period looks can mean period charm and character, especially if well preserved over time. However, when upkeep has been lacking and the home's interiors no longer suit the needs of modern living, an overhaul is in order.
Such was the case with a 1920s' kitchen in Milwaukee, WI. Although it had undergone a makeover at some point in its life, the small room was dated not only in functionality but also in style. According to Matthew Retzak, project designer and coordinator at Bartelt. The Remodeling Source, which was hired to execute the update, his challenge was to "create a kitchen that fits the architectural character of the home but includes modern-day amenities."
Complicating his task was the limited square footprint with which he had to work. This he addressed by combining the original kitchen, which was 11 ft. 6 in. x 12 ft., with an adjoining breakfast room "barely large enough to hold a table." The resulting room measures 11 ft. 6 in. x 23 in. and includes an eat-in area that Retzak and his team outfitted with built-in seating to accommodate the young family and devote more space to the kitchen proper.
Because the home is located in a historic district and to stay faithful to its period architecture, the project involved a fair amount of "very custom work, both inside and out." said Retzak. Existing windows, for example, were replaced with new ones that feature arched profiles to match those in the rest of the house. Overhead, a ceiling grid and plastic tiles were ripped out to restore the space to its original height.
Below, the kitchen boasts furniture-style cabinets in a combination of painted pale seafoam-green and dark stained cherry wood. The look is subtly vintage in feel, while the juxtaposition of finishes, Retzak said, lends visual interest. Custom paneling conceals a suite of built-in appliances, and for the countertops, the design team selected soapstone because of its matte look and its period-appropriateness. Underfoot, new oak hardwood flooring establishes continuity with the rest of the home.
The cabinets create a dramatic contrast to a new copper tile ceiling that was installed, along with a small soffit around its perimeter, as a decorative feature. As Retzak noted, "So often ceilings are ignored as a design element." Copper was also specified on all the
faucets and sinks to enhance visual unity. The choice of metal, as well as the ceiling's ornamentation, noted Retzak, reflects "the existing craftsmanship and materials of the home."
All of which can only add to the homeowners' enjoyment of their home. And thanks to a variety of modern conveniences (all deftly integrated, of course), their new kitchen has enabled them to have the best of both worlds—old and new.
Sources
Designer: Matthew Retzak (project designer/coordinator), Gary Chada; and Gail Hammernik—Bartelt. The Remodeling Resource, Delafield, WI
Manufacturers:
Cabinetry: Louis Anthony;
Appliances: GE;
Faucets and sinks: Kohler;
Windows: Marvin
Photography: Erol Reyal