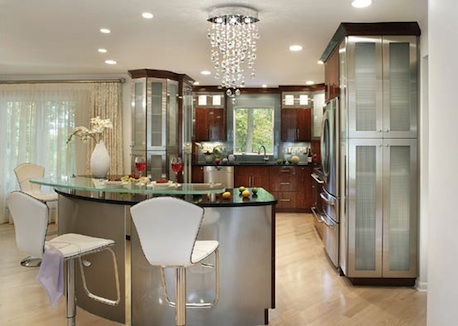 March 16, 2011
Finding the balance between eye-catching good looks and functionality can be tricky. For a kitchen renovation in Rockland County, NY, designer Glen Lumia, of Creative Design Construction & Remodeling, ended up devising a space that's both practical and glamorous.
The homeowners, an empty-nester couple, were looking "to open up the kitchen and be able to entertain," said Lumia. So walls came down and space was reconfigured, leaving a spacious and airy kitchen, dining and living area. After mapping out a few different floorplan options, Lumia and his clients settled on one with a large semi-circular island that functions as the focal point of the kitchen. Lumia added emphasis to the island's central location by hanging a glittering chandelier overhead.
Of course, practicality is a consideration, especially since the homeowners "like to cook and enjoy being in the kitchen together, but they needed their own work spaces," said Lumia. The wife looks forward to whipping up pasta dinners for her grandchildren, so an induction cooktop in the island was a must to boil water quickly. The cabinetry was also selected with a pragmatic eye. The stainless steel doors have diamond-patterned glass to give a decorative look and a light feel, but since it isn't transparent, the homeowners don't need to be concerned about display.
To keep the space bright and airy, Lumia back-lit select portions of the cabinetry, kept the flooring light-toned and added a raised tempered glass bar to the island. The end result is a kitchen that has "wow" factor suitable for both an elegant cocktail party and pasta night with the grandchildren.