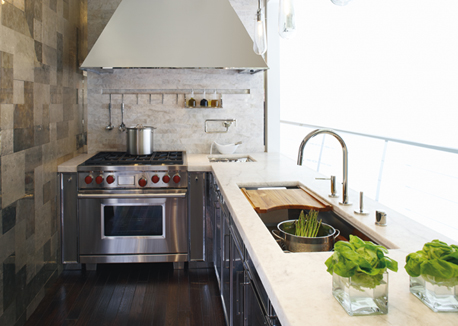 January 22, 2013
When Mick De Giulio, principal of de Giulio kitchen design, planned his inspiration rooms for the Kohler Design Center in Kohler, WI, he aimed for more than unique; he aspired to step in a new direction for kitchen design. De Giulio's "Crystal Clear" rooms harmonize practicality and elegance into two spaces: a high-functioning prep kitchen and an entertainment area with a bar and seating. Melding style with utility, the design tackles issues of space, storage and efficiency, demonstrating how beauty and functionality can elevate the culinary workspace.
Working within a small overall footprint of roughly 8 ft. x 20 ft., De Giulio was challenged to create a layout that would maximize storage and counter space. "There were a couple of obvious ways the layout could have been done," De Giulio said, but ultimately, he settled on one that "brought the kitchen away from the walls." Rather than allowing cabinetry to dominate the walls, his solution incorporates a multifunctional sink and a glass cabinet to provide ample storage under the counter, on countertops and along the walls.
Designed by De Giulio, the 45-in. x 18-in. x 18-in. kitchen sink is made of 16-gauge stainless steel, ensuring durability as well as lasting beauty. In addition to being generous in size and capacity, it also solves the problem of limited counter space. "I wanted to build a lot of function into the sink, since a pet peeve of mine is having so much of the sink take over the counter," De Giulio said. Further enhancing convenience, a sliding cutting board glides along the top of the basin and can be repositioned and removed. The basin's off-center drain also frees up more storage room in the cabinet below.
Another De Giulio design, a tall glass and metal cabinet boasts easy accessibility and an attractive appearance. "A lot of people don't like to have their pots exposed, and that was the inspiration," De Giulio said. Inside the unit, cookware still hangs from a traditional pot rack but is kept artistically behind glass. With the pots partially displayed, the cabinetry celebrates pot and pan wear without revealing more than needed.
Although the prep kitchen was the main focus of the initial design challenge, additional space behind it was uncovered during demolition, offering an opportunity to extend the installation. On De Giulio's suggestion, an entertainment bar and modest lounge were added and outfitted with low-slung upholstered chairs, a trough sink and a wine refrigerator, allowing visitors to sit, imbibe and relax in style and comfort. The room also showcases a third De Giulio original, a stainless-steel entertainment sink with a hammered and distressed surface and a polished finish to hide fingerprints or patinas, which is installed in a Nero Marquina countertop for dramatic contrast. "It's something a little more jewel-like," De Giulio said.
The comparison also applies to the kitchen, where a palette of cream, steel, wood and natural light creates an elegant and chic environment for cooking and entertaining. A warm-toned Iceberg quartzite countertop anchors the cabinetry, forms the backsplash for the cooking area and is complemented with a wall of head-turning nickel pyrite tiles and a silver-leafed ceiling, which together add sparkle and a touch of glamour.
"I didn't want to do a typical clichéd white kitchen," De Giulio said. Instead, his goal was to achieve "something rich, elegant and multi-layered." That he did and much, much more. Crystal Clear supplies a wealth of ideas to inspire designers, chefs and consumers alike.
SOURCES

Designer: Mick De Giulio—de Giulio kitchen design, Chicago; Construction: Collaboration of Kohler Co. and Bertram Studios, Random Lake, WI Manufacturers: Sinks: Kallista, Kohler (trough sink); Metal Boy cabinet: de Giulio kitchen design; Kitchen faucet, pot filler and soap dispenser: Kallista; Wine refrigerator: Sub-Zero; Range: Wolf; Countertops and tile: Ann Sacks; Upholstered chairs and stand: Baker Photography: © Kohler