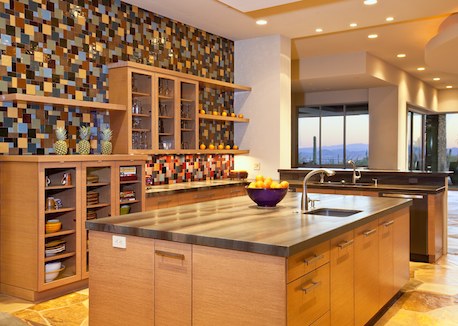 March 9, 2011
Nestled in the foothills of Tucson, Arizona, this open-plan kitchen combines a sleek contemporary look with an eye-catching palette of textured materials. For this new construction residence, the homeowners, a retired couple, had ideas about what elements they'd envision in their new kitchen, so they called on Lori Carroll, of Lori Carroll & Associates, to create a warm, yet sophisticated space.
Capitalizing the home's views of the city as well the mountains, Carroll drew inspiration from the landscape when selecting materials and the color palette. From the golden-toned rift-cut oak cabinetry to the sandstone flooring, the material selection is varied and unexpected, while also entirely appropriate for the setting. One of the more striking elements is the multihued tiled walls that serve as a focal point in the space. "I thought a bold use of color would work in the kitchen," said Carroll. "The tiles look like art on the wall." She also pointed out that one of the bigger challenges was ensuring that the randomly sized tiles were installed properly, especially given the amount of surface being covered.
To maintain an airy feel, Carroll placed most of the appliances along one wall and minimized the use of upper cabinets, while on the facing wall she placed glass-front cabinetry and open shelving. She kept the cabinetry style simple, adding textured pulls for interest, as well as "Rip Tide" granite countertops. The suite of pro-style appliances, including double ovens and double dishwashers, was specified in matte graphite gray. Carroll added, "I try to stay away from the stainless steel," which has been used frequently, while the matte finish has a fresher look.
The end result is a kitchen that invokes the spirit of the desert, as well as the urban appeal of the city.
Sources:

Designer: Lori Carroll & Mary Roles—Lori Carroll & Associates
Architect: Greg Simmons
Builder: Randy Sharp Manufacturers:
Appliances: Viking;
Sinks: Blanco;
Faucets: Grohe;
Tile: Fractured Earth, Tile & Stone
Countertops: Cactus Tile & Stone
Hardware: DuVerre
Cabinetry: Wood-Mode
Flooring: Anasazi Stone
Photography: Jon Mancuso Photography