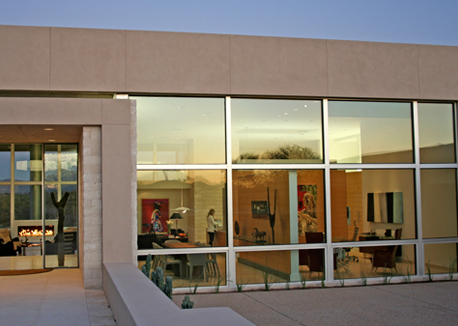 February 16, 2011
Perched on the banks of the Sabino River in the majestic Sonoran Desert, this home reflects the laid-back lifestyle of its owners. And thanks to Rob Rubin, CKD, and his team at The Construction Zone in Phoenix, AZ, the open, casual kitchen meets the client's criteria: offer unobstructed views, maintain an open floor plan and incorporate art.
To preserve the breathtaking views and flow of natural light from two dynamic floor-to-ceiling windows, Rubin designed a kitchen comprised of floating walls and partitions.
"We basically created the kitchen as an island in the middle of a large room," Rubin explained. Along one side, a storage wall acts as "a solid mass of function that's simple and clean when shut," he noted, and opposite it, a counter provides additional storage. The rear of the kitchen is defined by a partition that houses functional elements, such as the cooktop, and, at 10 ft. in height, gives the 15-ft.-tall space a more intimate sense of scale, while allowing for daylight penetrate. In separating the kitchen from a hallway thoroughfare, the floating wall is adorned on the other side with an oversized painting from the family's collection.
The kitchen is further defined by a multi-level island, comprised of a bar counter on one side and a prep/cleanup area on the other. The latter is equipped with a sink, a faucet and storage, while the latter, its own work of art, is formed of concrete that was cast in place and features a cantilevered glass countertop. Above, a floating custom light fixture outlines the kitchen's key work areas and horizontally defines the kitchen space.
All of the cabinets are made of beautiful quarter-sawn Aniegre wood, whose honey-like color brings warmth to a home where the primary materials are travertine, glass and white walls. To add lightness to the cabinetry, Rubin added an aluminum toekick to all of the units, as well as the partition walls, thus lending them a "floating" quality. On the walls, custom thin leaves were slip-matched to emphasize the wood's horizontal grain.
Despite the home's soaring ceilings and open floor plan, the resulting kitchen manages to appear self-contained and inviting, while capitalizing on the dramatic desert views. In material, look and feel, it celebrates its surroundings, both natural and architectural, as well as its owners.
Sources
Designer: Rob Rubin, CKD—The Construction Zone, Phoenix, AZ Manufacturers:
Cabinetry: Artcraft Kitchens;
Countertops: CaesarStone;
Sink: Franke;
Faucet: Dornbracht;
Refrigerator, cooktop, warming drawers, oven, microwave, dishwashers: Miele; Ventilation: Wolf; Concrete/glass bar: The Construction Zone, LTD.; Custom light fixture: Rob Rubin, The Construction Zone, LTD.