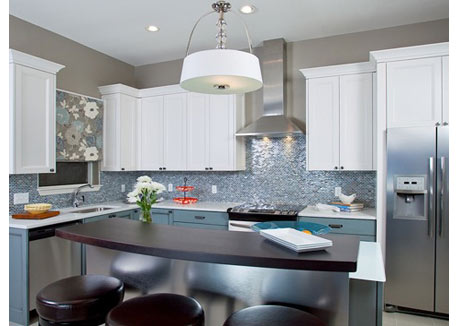 June 14, 2011
Selling a home can be tricky, especially in today's market. Prospective sellers will have all sorts of advice thrown at them—Improve curb appeal! Remove clutter!—but perhaps one of the most effective tips is to "give the impression that a home is move-in ready."
When the owner of a residence in Gulf Breeze, FL, approached designer Cheryl Kees Clendenon, of In Detail Interiors, to renovate his house, the project goal was clearly stated: Get the home in shape to sell, and more importantly, allocate money wisely to "get the biggest bang for your buck." The house, set in an upscale beachy neighborhood, was in desperate need of an update. "The home wasn't that old, but had been poorly designed," said Clendenon. "Structurally it had good bones, but there were unnecessary arches and columns that needed to be taken out to simplify the space."
When tackling the kitchen, Clendenon faced multiple obstacles, including an oddly angled island that was placed in an awkward position, as well as a dishwasher that had been installed, impractically, around the corner from the kitchen. To create an airy feel, Clendenon opened up the space, with the intention to create a unified look for the kitchen, den and breakfast area. The old carpeting and tile were taken out and replaced with new tile throughout.
The kitchen was designed with a transitional look in mind—a style that would reflect the demographics of the neighborhood and attract possible buyers. Clendenon aimed to give the kitchen "a shot of personality" without being polarizing, and at the same time, not break the bank. The island's footprint was enlarged and designed to incorporate a mix of materials, including a raised wood bar, a glass countertop and reflective aluminum laminate on the outward facing panel. When selecting colors for the space, Clendenon deliberately "chose neutral tones that would have wide appeal." While she specified cabinetry in two different colors—not a standard approach—the choice adds to the bright, lively appeal of the kitchen. An iridescent tiled backsplash ties together the color palette and imparts an eye-catching hint of sparkle.
For a budget-minded project, Clendenon emphasized the importance of knowing where to spend versus where to save. "If the window treatment fabric is expensive, but you only need a few yards, it can give the 'pop' you're looking for to bring a space together," she said. "It's worth it and it won't ruin your budget." Based on the Gulf Breeze kitchen, it's a philosophy with a charming end result.
Sources:
Kitchen Designer: Cheryl Kees Clendenon—In Detail Interiors, Pensacola, FL Manufacturers: Cabinetry: Custom by In Detail Interiors; Cabinetry hardware: Amerock; Countertops: Hanstone; Lower island countertop: Curvet; Island laminate: Chemetal; Window treatment: custom design by In Detail with Romo Fabrics; Flooring: Architectural Collections; Tile backsplash: Sonoma Tilemakers; Double ovens, range: GE; Ventilation: Broan; Refrigerator: Frigidaire; Lighting: Cyan Designs and Savoy House; Sink: Blanco Photography: GFR Photo.