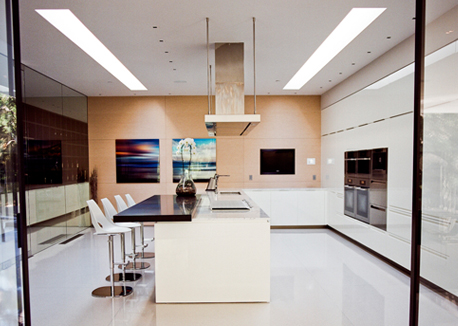 February 28, 2011
Although people in glass houses shouldn't throw stones, that would be a small sacrifice for the opportunity to live in this stunning, glass-walled home in Montecito, CA. Designed by Steve Hermann, of Hermann Design & Development in Los Angeles, this modern space is known as the Glass Pavilion. Massive structural steel beams support large panels of Starphire glass—an incredibly clear glass usually reserved for jewelry displays—making the house appear to hover above 3.5 acres of rolling lawns and oak woodlands. "I've always been a big fan of glass houses and having lots of natural lighting," said Hermann. "This is such a gorgeous setting, it seemed like a sin to put walls up and block the views or light."
While the entire 14,000-sq.-ft. home—which features five bedrooms, five-and-a-half bathrooms and an art gallery with walnut-lined walls capable of displaying 32 vintage cars—is an architectural masterpiece, the 30-ft. x 30-ft. kitchen is "like being in a showroom," said Hermann. "If you were to imagine a dream kitchen and ask for everything you wanted, this kitchen is it." Hermann originally planned to keep the Glass Pavilion for himself until his daughter was born during the six-year project. He added, "Everything in the house is the best of the best."
The kitchen opens up to the dining area and living room, which is one large great room surrounded by glass exterior walls and stunning views. "The concept of the Glass Pavilion is about flow and open spaces," said Hermann, a completely self-taught designer whose innovative, high-end homes are owned by A-list celebrities, entertainment executives and members of the Forbes top 10 wealthiest list. Italian-made sliding glass partitions separate the kitchen from the other living spaces. "The partitions can contain cooking odors or sound and close off the space, but the glass lets you still be connected to the rest of the house," he said.
Like the rest of the house, the kitchen's design is minimalist and extremely clean in line and look, requiring extreme attention to achieve. "The difficulty in designing a house like this is the lack of detail, and that is quite laborious," said Hermann. "There are no moldings to cover things up, so drywall has to be straight within 1/16 of an inch where it fits to the cabinetry or else it doesn't look right."
In addition to careful aesthetics, Hermann also designed the kitchen to function for family meal prep, a home chef entertaining friends, or lavish parties with caterers. The white lacquer cabinetry provides a sleek look and tons of storage. Built into the cabinets are three ovens, dual dishwashers and a coffee maker.
A substantial bi-level kitchen island serves a dual purpose. The white marble counter provides ample workspace, a deep bowl sink with a sleek faucet, and a range with eight burners and barbecue and teppanyaki cooktops. The eat-in bar easily seats four at its black counter for casual dining.
Skylights bring natural light into the space from above, while directional downlights are hidden in the ceiling for a streamlined look. Epoxy terrazzo flooring completes the kitchen's polished look.
The kitchen also features a temperature-controlled wine room that holds 3,000 bottles on full display behind a glass wall. "The wine room is so large that it is really dramatic experience walking into it," said Hermann. "For a wine aficionado, being able to look over and see your wine collection is great, much better than it being hidden in a basement."
SOURCES
Designer: Steve Hermann—Hermann Design & Development, Montecito, CA Contractor: Todd Ridenour, Todd Construction, Santa Barbara, CA
Manufacturers:
Refrigerator: Sub-Zero; Range: Gaggenau; Dishwashers, coffee maker, ovens: Miele;
Cabinetry, range hood: Poliform;
Lighting: RSA Lighting;
Glass partitions: TRE-Più
Photography: Nancy Neil