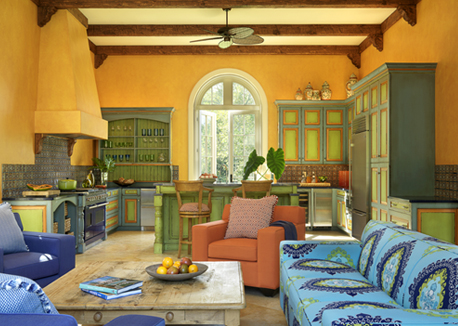 October 6, 2011
Designing for clients familiar with your work can have its advantages. Chances are they're already fans or else they wouldn't be hiring you, and they probably have a good idea what to expect. But such projects can also present challenges, as noted by James E. Howard, CKD, CBD, of Glen Alspaugh Kitchens, who designed this colorful pool house kitchen for a couple in St. Louis: "The clients had seen everything I had done, so I had to come up with something pretty outstanding."
That he did. Described by judges as having a "happy" atmosphere that makes "you just want to plop down and put your feet up," this Kitchen of the Year turned heads with its warm, vibrant finishes, well-integrated design, attention to detail—both functional and aesthetic—and, not least of all, sunny disposition.
Because the pool house is a standalone structure, the kitchen is completely self-sufficient, Howard noted. In addition to housing a full suite of appliances, it boasts a layout and conveniences that enable it to pivot with ease between the demands of everyday living and large-scale entertaining. According to Howard, achieving this flexibility required tweaking an architect's plan to maximize "usage of the appliances." A set of refrigerator drawers for storing fresh produce, for example, was moved closer to the range to minimize the distance between prepping and cooking, and an oversized refrigerator was relocated opposite the cooking area and out of the way of busy chefs.
Naturally, keeping the vibe fun and casual was top of mind for Howard, but this, too, did not come without its challenges. As with all kitchens, providing ample storage was a must, but how to do so without overwhelming the space with cabinetry? "We had to reverse-design this project," said Howard, whose initial design placed cabinetry on all three walls. "But that wasn't saying simple, open and fun." After a round of judicious editing, wall units were eliminated from either side of the hood, and next to the range, open shelves containing storage baskets were added for a more informal look.
Further enhancing the kitchen's casual appeal, Howard varied the heights of the cabinetry along the back wall while incorporating a door that connects to a balcony overlooking the backyard. Because the door is prominent and centered, he was concerned about it disrupting the flow of cabinetry from one side to the other and, in an earlier concept, developed a symmetrical elevation to establish continuity. But the effect was too formal, he noted, and moreover, the clients "wanted more open storage [and] the conventional open-shelf cabinet just didn't look right." As an alternative, a custom hutch-style unit was created for the left side of the door while wall and base cabinets anchor the right.
A two-tiered island, topped with Blue Boquira granite, loosely separates the living area from the kitchen, which is otherwise completely open. Here, an elevated bar counter with high stools conceals a generous-sized cast-iron sink in cobalt blue. Under the lower countertop are ensconced a dishwasher and a double wastebasket pullout that allows for recycling or additional trash disposal for entertaining.
Of course, much of the kitchen's dramatic impact stems from its Mediterranean-inflected colors, which originated with the wife herself. "The pool house was her baby," said interior designer Corinne Jones. "She had lots of tear sheets for inspiration," as well as a sketchpad and color pencils, with which she "literally drew a picture of what she envisioned for these cabinets and the overall color scheme. And we went from that." The cabinet's bright hues beautifully set off the cobalt blue range, which surprisingly was chosen much earlier in the process. According to Howard, the clients had originally requested all of the appliances in blue, but because of a lack of availability, they settled on stainless steel for the rest of the equipment, which in the end worked out well. "As you walk through the kitchen, the stainless is like a neutral and really picks up reflections, depending on your angle of view," Howard noted.
Although Howard admits the kitchen's palette is not for everyone, he and the homeowners are pleased with the result, as were the judges. "Almost all our projects turn out better than we imagined, but this one was many factors better," he said.
Sources
Designer: James E. Howard, CKD, CBD—Glen Alspaugh Kitchens & Baths, St. Louis Additional members of the design team: Corinne Jones, Corinne Jones Interiors (interior designer) Manufacturers:
Cabinetry: Signature Custom Cabinetry;
Countertops: CaesarStone;
Refrigerator, refrigerator drawers, wine cooler and ice maker: Sub-Zero;
Dishwasher: Asko;
Range: Viking;
Hood liner, remote blower and microwave drawer: Wolf;
Sink and faucet: Kohler
Photography: © Alise O'Brien