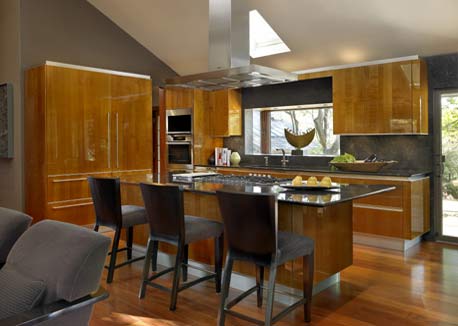 December 20, 2011
When an empty-nester couple in the greater Chicago area enlisted designer Shawna J. Dillon, ASID, Studio Snaidero Chicago to renovate their kitchen, they did so with the intention of creating what would be a complete departure from their existing space. Dillon responded with a fresh perspective on a kitchen layout that works.
"The homeowners approached the project with the idea that the new kitchen would be drastic change from the existing style and footprint," said Dillon. "They want to be able to stay in their home as long as possible and have a kitchen that would accommodate them as they aged." However, when a new floor plan was drawn up and the design concept was being shaped, the owners found themselves drawn back to the original layout of their kitchen. "The project became less about a total transformation," said Dillon. "Instead, we created a space that complemented the rest of the house and made changes like increasing the width of passageways, upgrading the cabinetry drawer styles and adding useable storage."
The original kitchen had Italian cabinetry that was well over 20 years old, but still in good working condition. "We chose new cabinetry from the same manufacturer for the renovation," said Dillon. "But the original cabinetry was in such great shape, the contractor removed it and installed it in his own house, which was a nice way to reduce waste." The new cabinetry, specified in a high-gloss golden cherry finish, packs a visual punch in the kitchen. "It's not a conservative choice, but it's a nice combination of a traditional material—wood—being paired with a contemporary finish," Dillon noted. "The high-gloss gives the illusion of space. The homeowners were comfortable with wood cabinets, but the finish gives it an edge and a luxurious feel."
The style also fits with the stone Craftsman-style home set in a wooded environment. The flooring was replaced and closely matches the cabinetry, which features an aluminum toe kick to provide a relief between the two woods. 

To counterbalance the dramatic cabinetry style, the accompanying kitchen materials were purposefully kept subdued. Black granite was used for the island and perimeter countertops, as well as the backsplash, to provide an elegant juxtaposition of materials. The granite specified for the backsplash was textured, giving it a matte look, and also creates a visual contrast when placed next to the glossy cabinetry.
While the homeowners originally thought they wanted a radically different look for their kitchen, what they happily ended up with was a space that fits harmoniously with the rest of their house and a style that will graciously stand the test of time. 

Sources:
Designer: Shawna J. Dillon, ASID, Studio Snaidero Chicago;
Cabinetry: Snaidero;
Faucet: Franke;
Sink: Julian;
Trash compactor: Viking;
Dishwasher/Vent Hood/Oven: Miele;
Refrigerator/Freezer: Sub-Zero;
Cooktop: Gaggenau;
Paint: Benjamin Moore; Photography: Tony Soluri Photography