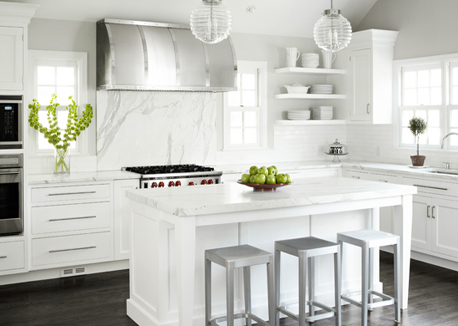 March 12, 2013
Entertaining, cooking and leading a functional household all begin in the kitchen. When a small kitchen grew to a challenge for a mother of three teenage boys, designer Heidi Piron of Heidi Piron Design and Cabinetry worked out a solution.
"[The owners] were involved in ice hockey and lacrosse, always hosting family gatherings, and she was always cooking a gourmet meal every day for her boys," said Piron. "If anybody needed a new kitchen, it was her."
Using a transitional design and an innovative use of space, Piron crafted the classic white kitchen needed to support their busy lifestyle. Taking into account the owner's contemporary taste, Piron blended the more traditional home's style with modern touches. A framed inset cabinet is paired with circular long pulls instead of knobs, and a longer 2 in. by 12 in. rectangular tile replaces standard subway tile.
"We continued to simplify it and remove the ornamentation," said Piron.  Simplicity continues into the kitchen's organization. "Work that is done in a particular area is organized in that particular space," she commented.
To the right of the dishwasher is the silverware, while a pull out by the range stores oils. Each piece of cabinetry has a purpose – including a swing out to fill dead corner space – but the floating shelves allow for a more minimalist appeal.
"I don't believe just because you have walls you need to fill it up with cabinetry," said Piron. "From a pure design point of view, [the floating shelves] definitely add a simple, clean and modern look."
Although the layout was expanded by architect Nick Cusano of Cusano Associates Architecture + Design, a tray ceiling, built-in refrigerator and added windows increased the space. Along with microwave and wall ovens built flush to the cabinetry, Piron also "really wanted [the lighting] to be invisible and recessed. LED lights are not hot, they are more energy efficient and you have more of a warmer light."
Enough space was added for an island with three seats and storage underneath. "I used a mix of drawers for pots and pans and one drawer dedicated to big and bulky items," said Piron. The island's countertop was also increased to a 2-in. thickness, which makes the kitchen more interesting.
A Calcutta gold countertop in a standard thickness around the parameter provided the owner with her dream design.
"The challenge was that [the owner] was drawn to a classic white kitchen with white marble, but it's not low maintenance or durable because it can stain or chip," said Piron. Using a sealer, the stone fabricator applied a process to make the white surface stain proof. "Now she can cook all the spaghetti sauce she wants," added Piron.
With the simple aesthetic formed by the white counters, the small touches of ornamentation stand out.
"When you walk into the kitchen, the metal hood is the focal point of the room," said Piron. The polished, custom-brushed metal hood ties together stainless elements with hardware and complements a marble backsplash. "[The backsplash] is nature's own piece of artwork," she added.
Minimal adornments – from the details on the hardware to the simple door hinge – simplify the kitchen and expand its space.
"It's everything from the floating shelves with the LED to the white marble countertops," said Piron. "They're all subtle details that grant the feel of being light and airy and simple."

Click here for more images.
SOURCES
Designer: Heidi Piron—Heidi Piron Design and Cabinetry; Architect: Nick P. Cusano, AIA,—Cusano Associates Architecture + Design; Photographer: Christian Garibaldi—Christian Garibaldi Photography; Cabinetry: Premier Custom-Built, Inc.; Manufacturers: Refrigerator: Sub-Zero; Ovens and Microwave: Wolf, Custom Range Hood: Heidi Piron Design & Cabinetry, LLC; Lighting, Tile, Hardware: Heidi Piron Design & Cabinetry, LLC