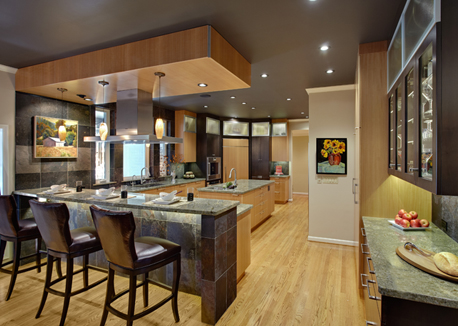 October 4, 2012
Black may not be everyone's first choice for a ceiling color. But in this merit-winning kitchen created by Nar Bustamante, president of Nar Fine Carpentry, for a family in Davis, CA, it works perfectly. Not only effective in reducing glare, it lends focus and intimacy to a bistro-chic remodel that maximizes work surfaces, keeps children out of harm's way, ensures easy access and provides a place to show off original paintings.
An evocative mix of materials helps tame the 21-ft. 3-in. x 12-ft. 2-in. space—which is tall and narrow—and integrates it with an adjoining family room. In addition to the use of black paint, a series of aluminum cabinets with textured glass inserts on top helps lower the ceiling visually, while below, anigré and maple cabinets serve up contrast and a sense of warmth. All of the base units are topped with seafoam granite counters for continuity, and slate on the walls and a peninsula further enrich the space.
But Bustamante's design is about more than just aesthetics. An angled refrigerator and an oversized island ensure a well-functioning work triangle, and a dual-level peninsula with a bar counter and seating on one side allows the children to interact with their parents without entering the prep area. Storage accessories abound to keep the kitchen organized and user-friendly, and an all-LED lighting scheme saves energy while supplying ample brightness for working, dining and enjoying art.
Sources
Designer: Nar Bustamante, CR—Nar Fine Carpentry, Inc., Carmichael, CA Additional design team member: Nicolette Patton, AKBD
Manufacturers: Cabinetry: Crystal Cabinet Works;
Appliances: Sub-Zero,
Wolf,
Thermador and
Gaggenau;
Sinks: Artisan and
Franke;
Cabinet hardware: Top Knobs;
Windows: Andersen
Photography:
© Fred Donham, PhotographerLink