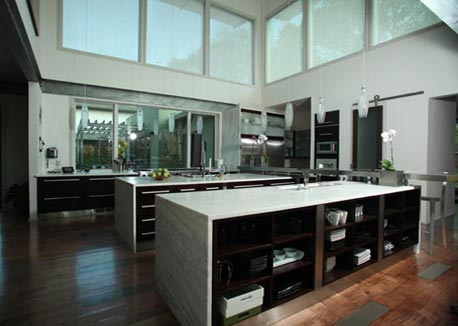 November 17, 2011
Creating envy-worthy interiors for clients is part of the day-to-day for a designer, but what happens when the designer returns to their own home? In the case of Ana Seyffert, of Spun Creative Group, she comes home to a sophisticated airy kitchen, as well as a second outdoor kitchen and lounge space ideal for enjoying the mild Dallas, TX weather.
The 1950s home, which had been the recipient of an "awful" 80s remodel, was gutted under Seyffert's direction, however the basic footprint of the indoor kitchen was retained. To add drama, as well as light, the kitchen was opened up to the second story giving the room a 22-ft. ceiling height and large windows were added around the upper level's perimeter. "I wanted to feel like I was outdoors even when I'm indoors," said Seyffert. "I get natural light all day long and it's also nice not having to turn on lots of lights."
When planning the kitchen Seyffert took into consideration her large extended family and designed a space where everyone could gather comfortably. Seyffert decided to specify "three counter spaces to accommodate multiple cooks. Everyone can have their own spot." By creating multiple islands, the majority of cabinetry and storage is undercounter so "not to take away or distract from the views." The repetition of the two islands with a third countertop running parallel alongside the refrigerator imparts a sense of order and also emphasizes the lofty feel of the kitchen.
To visually connect the two islands, a floating stainless steel bar runs along the ends creating an anchor of sorts, as well as offering additional seating. A mix of materials, from light-hued marble, dark toned cabinetry and warm wood flooring make for a refined feel in the space. The dark cabinetry offers a pop of contrast to the marble countertop, which wraps around the ends of the islands, helping to maintain the kitchen's airy style. Taking cues from the stainless appliances and bar, Seyffert exposed the kitchen's original wooden I-beams and inserted metal replacements, which adds an unexpected edge to the space.
Capitalizing on Dallas's advantageous year-round temperatures, the backyard was transformed into an entertainment oasis. Boasting a pool, an outdoor kitchen, a lounge area with TV and a spa, Seyffert notes that she and her family "use the area extensively. We cook outdoors about every weekend." A curved concrete wall covered in limestone behind the kitchen area supports a dramatic cantilevered overhang of metal and wood beams.
For ambiance when gathered at night, Seyffert specified an outdoor gas fireplace from Spark Modern Fires. Incorporating linear burner system, the fireplace uses all stainless steel construction and waterproof internal components, allowing for a variety of applications outdoors. Seyffert chose to incorporate the system into a coffee table centered between lounge seating. And unlike sitting around an outdoor fireplace fueled by wood, which can throw off smoke and sparks, the linear burner system uses natural gas and requires no clean-up after being used.
The final result is a home perfectly suited for entertaining both indoors and out.
Sources:
Designer: Ana Seyffert, Spun Creative Group;
Indoor Kitchen;
Cabinetry (above refrigerator and below islands): Johnson Steel Kitchens;
Cabinetry hardware: Dekkor and Johnson Steel Kitchens;
Range, Dishwasher, Grill, Ventilation: Viking;
Refrigerator/Freezer: SubZero;
Microwave: Sharp;
Coffee maker: Gaggenau Coffee Maker;
Ice Maker: Hoshizaki;
Beverage Center: Kitchenaid;
Sinks: Franke and Native Trails; Faucets: Dornbracht;
Bar stools: Emeco;
Paint: Sherwin Williams; Photography: Anthony Chiang, Fishfotography.
Sources:
Outdoor Kitchen

:
Grill: Kitchenaid;
Cooktop: DCS;
Sink: Franke; Faucet: IKEA; Refrigerator: Summit;
Countertop: Silestone;
Island: IKEA; Stools: Zuo Modern;
Lounge Chairs: Tidelli;
Outdoor fireplace/burner: Sparks Modern Fire; Stainless Steel table: Jose Galicia; Spa fixtures: Bobé; Sculpture: Sebastian